Saco River Theatre: Art, Culture & You!

With a history dating all the way back to 1897, The Saco River Theatre (SRT) enriches the community with art & culture for everyone to experience. SRT is a perfrming arts center and public hall for diverse, cultural and educational programs open to the entire community.
What was once a Universalist Chapel, is now the SRT, a non-profit organization, hosting concert series, roadshows, educational classes and so much more! Explore more of SRT's fantastic history tree here!
SRT always has a variety of different events taking place in their venue, that flexibility is essential when working with various artists and speakers. By utilizing Purplepass, SRT has ticket options, delivery choices, can offer coupon codes and customized discounts to fit each venue and so much more!
"Purplepass has been good to us. We love their flexibility and user-friendliness." - Dana Packard, Saco River Theatre
Purplepass Ticketing can customize any of their features and event benefits to suit the needs of your event. By offering things such as customized verbiage and messages, check out questionnaires, email templates, ticket transferring and full-time zone support your event will have everything it needs to succeed. Find all the benefits Purplepass offers and discover how you can make your event 100% yours!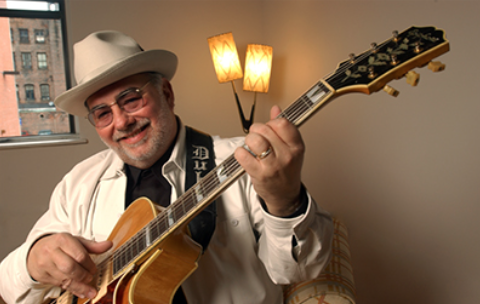 SRT's most recent upcoming event, Duke Robillard, is almost here; taking place Friday, September 14th at 7:30 pm.
The Blues Music Awards (formerly W.C.Handy Awards) have named Duke Robillard "Best Blues Guitarist" four years out of five (2000,2001,2003,2004) making him the second most honored guitarist for that award! He was also nominated in that category in 2005, 2007 2008. Purchase tickets here!