WordPress .com vs .org: Which One Should I Use for My Event Website?
Over 35% of the internet is powered by WordPress. It's BY FAR the most popular content management system (CMS) on the planet, and the vast majority of event websites that we've seen are built on the WordPress platform.
So, chances are, most event planners end up running a WordPress-based website.
But you've probably noticed that there are two WordPress's. There's WordPress.com, a full-service commercial instance of the WordPress CMS and WordPress.org, which allows you to download the WordPress open-source software.
So what's the difference?
Should you download the software and use a hosting service? Or should you stick with WordPress.com for simplicity?
Let's talk about it!


Why should event planners use WordPress?
Why wouldn't you! It's a free, feature-packed content management system that runs the majorityof the internet. It's BY FAR the most updated CMS on the planet.
In a nutshell, content management systems make it easier to run a website. They let you quickly organize, access, and create all of that amazing content that you'll be creating.
There are a few CMS options on the market.
There are closed-source options like Squarespace and Wix, and there are open-source options like Drupal and Joomla. And while all of these may have nifty features for different business types, WordPress seems to be the de facto for event planners.
Why?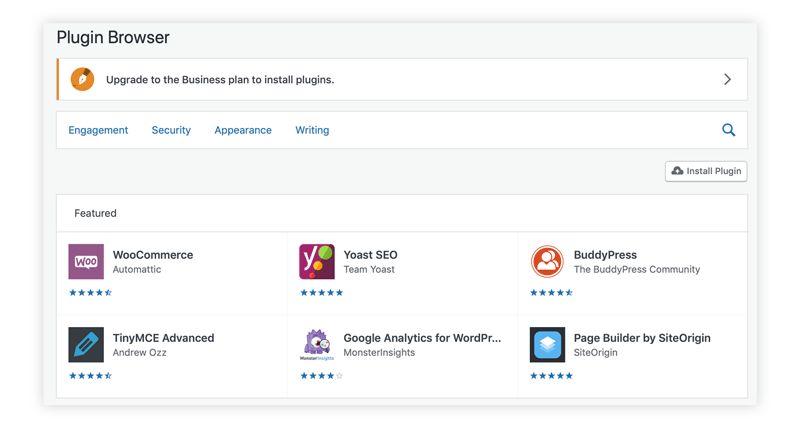 Because of the plugins!
There are thousands of plugins that help you customize your website with tons of cool features. You can add plugins that give you better data analytics.
You can add plugins that automatically enhance your technical SEO or event function.
The better question is this, "why wouldn't you use WordPress for your event website?"
What is WordPress.org?
Launched in 2003, WordPress is an open-source content management system (CMS) backed by a nonprofit organization — The WordPress Foundation.
Not only does The WordPress Foundation put its incredibly popular CMS out on the market for free, but they constantly update the software through donations and crowdsourced support.
The main benefit of using an open-source solution like WordPress is that anyone with a little coding skill and a dream can create a plugin for WordPress.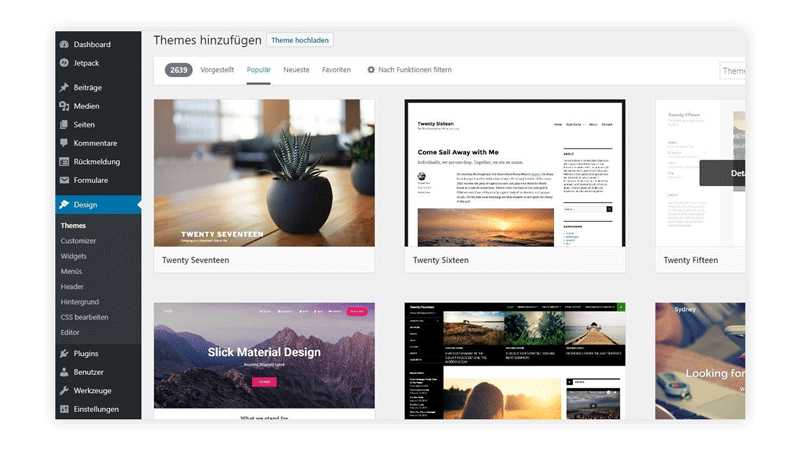 Currently, there are well over 50,000 plugins available, each of which can add special functions to your website. You've got SEO-based plugins, aesthetic-based plugins, and (of course!) event-based plugins.


Using WordPress.org is relatively simple.
You download the WordPress files
Upload them to your host's server
Installer takes care of the rest


Of course, in today's WordPress-heavy ecosystem, it's even easier.
The vast majority of website hosts give you an option to automatically install WordPress from your hosting dashboard — skipping some of the installation pains.
Pros of WordPress.org
You have access to the full, unfiltered version of WordPress
Plenty of plugins available
Easy to set up in today's environment
Not restricted
Free to download and use
You can customize your website any way you see fit
You control your ads
Cons of WordPress.org
Long learning curve
Have to pay attention to plugin threats
***You have to pay for hosting
You're responsible for updating and backing up your website
What is WordPress.com?
WordPress.com is owned by a private company Automattic. Unlike WordPress.org, WordPress.com is a hosting platform that runs a modified version of WordPress that's automatically installed by default when you sign up for a hosting plan.
This modified WordPress version is easier to use, already installed and has rapid response times.

WordPress.com also has a freemium version, but you'll be stuck with 3GB of space, and they will run ads on your website (i.e., don't use this!)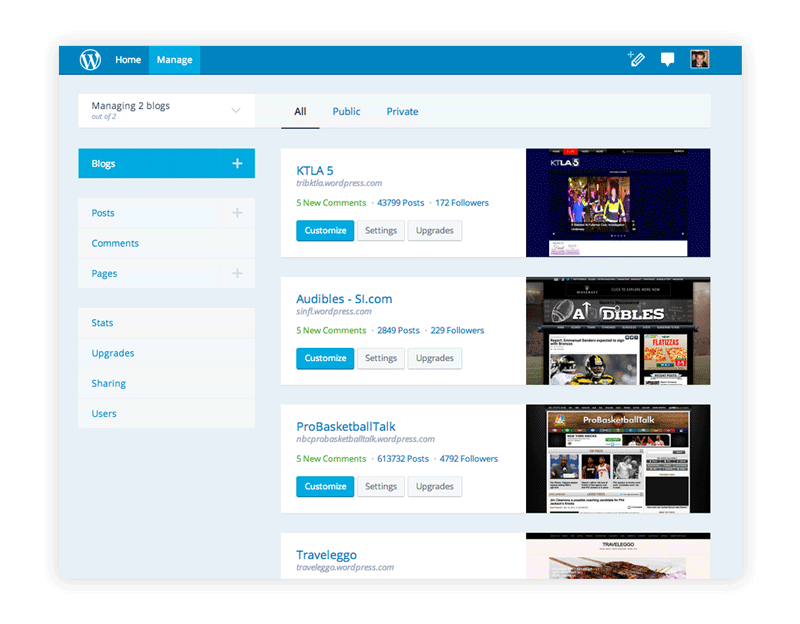 It's important to note that WordPress.com is both a host and a WordPress provider. When you sign up for an account, the service pretty much takes care of everything.
So why doesn't everyone use it?
The WordPress version is more of a WordPress-lite than an upgraded WordPress. You're restricted on what plugins and themes you can use, and you can't utilize some of WordPress's more powerful features.
How did Automattic get to run its own version of WordPress and share a name with open-source CMS?
There's a long history here. But let's sum it up by saying that Automattic and WordPress have deep ties financially (Automattic even donated the WordPress trademark back to The WordPress Foundation.)
Pros of WordPress.com
It's super fast and easy-to-use
You don't have to worry about updates
You don't have to worry about backups
It does have a free version that lets you use up to 3GB of space.
Cons of WordPress.com
The free version has ads and a data cap
You can't use data analytics programs like Google Analytics
You can't run ads independently (you have to share revenue with them using "WordAds")
You're severely restricted on your ability to download plugins
You're severely restricted on your ability to download themes



Which one should you use?
Either one!
We're not here to tell you how to live. We'll say this. The pros list for WordPress.com was bigger a few years ago.
Today, hosts make it super easy to install a WordPress instance. Plus, it costs about the same as running a Business version of a WordPress.com account.
While WordPress.com does give you a spankin' fast website in seconds, it has some serious limitations on the customizability and ad front.
Since ads are vital in today's hyper-competitive ecosystem, that can be a massive con. Whichever one you choose to use, you're in good hands. They're both trusted, respectable companies with different goals.