A Free Event Ticketing Software To Use For Your Events
Why are people calling Purplepass one of the easiest ticketing softwares around?? It's simple. The process of using our free event ticketing software from start to finish is broken down in just 6 steps. It only takes these few steps to have an amazing event, with little stress and a lot of success.
---

Step 1. Make An Account
No chunky forms, long paragraphs of terms & conditions to read through, we make it fast and easy. Give yourself two seconds to enter your information and you'll have your account set up in no time. Once you click "register" you will official have your own account and be ready to move on to step two.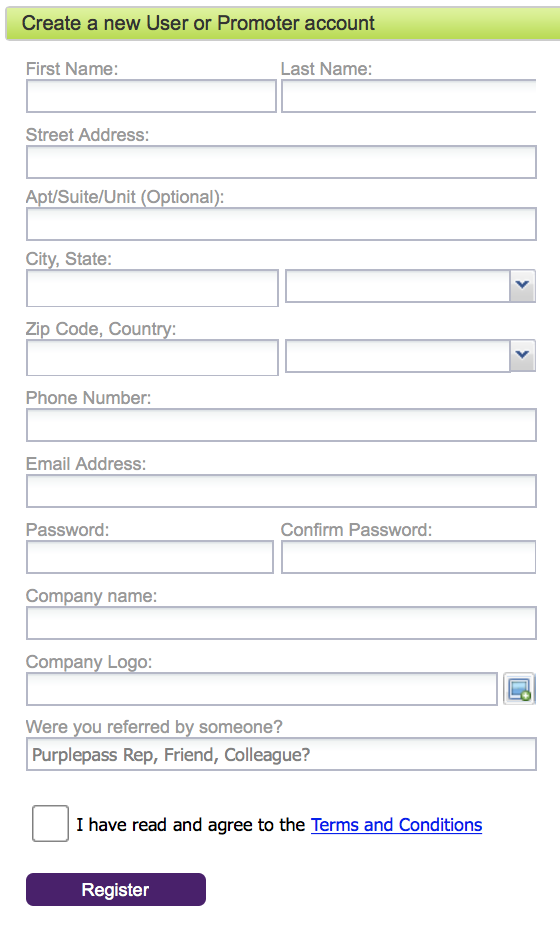 ---

Step 2. Post An Event
Once you are in your account, you will have the option to post a new event online. You can select the type of event you would like to create and then the hard part is over! From there you have to fill out the following:

The basic event details, The location, Ticket pricing and options, Add media, Add additional options (partner access, integrations, etc.)
When all the information is entered and you are ready to go click "Post Event"; your event is now live and ready to begin your event registration online.
---

Step 3. Order Your Ticket Stock
The fun part! Now it's time to get in touch with your Purplepass representative and design your ticket stock.

You have a variety of options and custom designs to work with to make sure you can personalize your event the way you want it.
Below are all the options offered:
Thermal Tickets:
We offer thermal Boca ticket stock in 7 different colors. Our stock comes with several features including a hologram, guilloche patterns which cannot be copiedon a photo copier, perforated tear stub, unique serial numbers andbarcodes, as well assequential unique tracking numbers.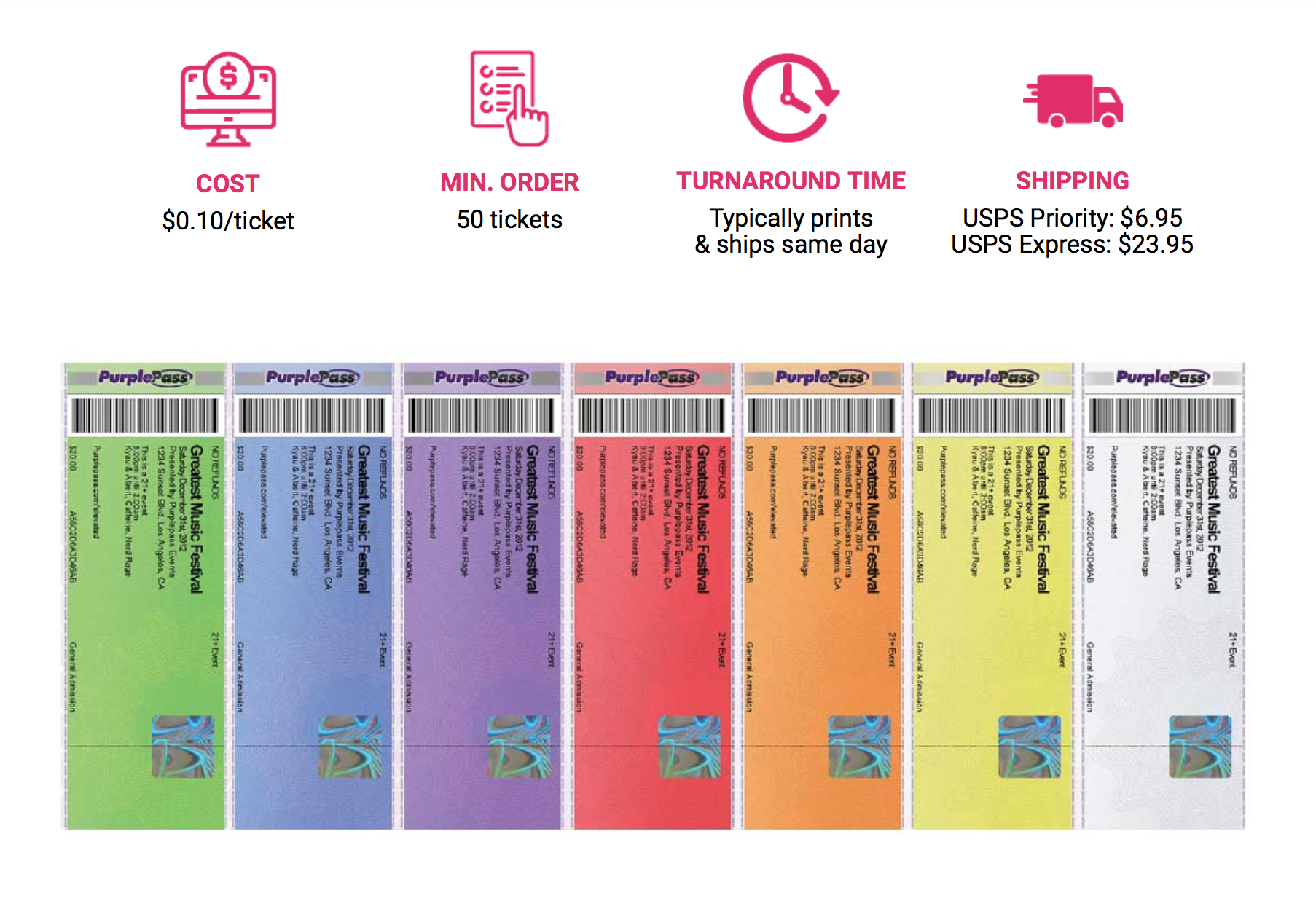 Full Color Tickets:
Our full color ticket stock is the best of the best. You can upload your own full color custom artwork on the front and even upload an additional image to be printedon the back. A great use for this includes adding company logos or even sponsors. All full-color tickets have unique barcodeserial numbers, sequential tracking numbers, are printedon very highly quality heavy weight paper, and you can choose whether or notto have the stub perforated.
One of the best aspects of our full color ticket stock is the minimum order– Only 30 tickets! This gives you the freedom to order fully custom tickets for all of your events, regardless of the size.
Wristbands:
We offer high quality vinyl wristbands available in 7 different colors. They are very durable, water resistant, and they can be printedwith your own custom artwork, logos, and even details. We can even print barcodeson the wristbands so your guests can use them as their admission tickets.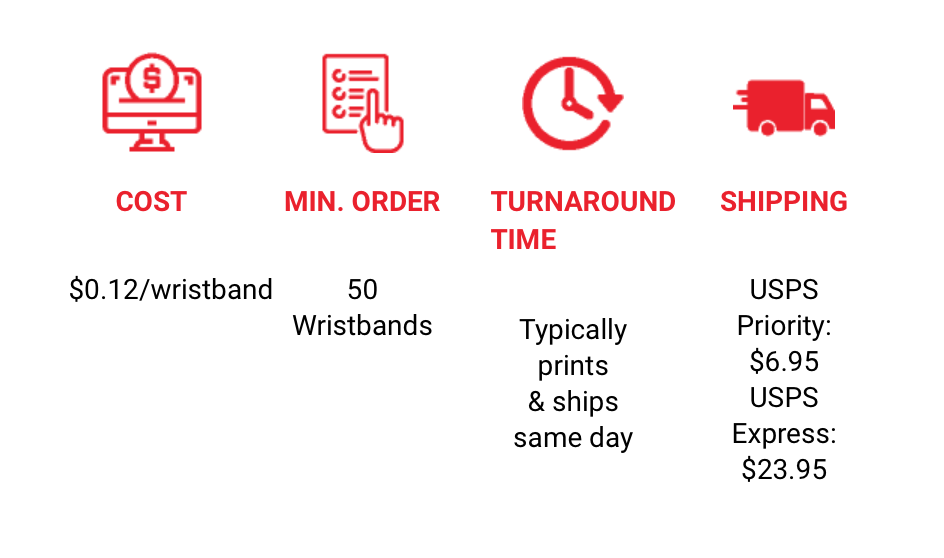 Additional Printing Services:
For other event printing needs and material reach out to us for more information about our products and offerings, and we look forward to serving you and filling all your printing requests.
---

Step 4. Integrate Widgets
Now you can choose from a variety of customizable widgets to sell tickets directly on your site to make your event management setup easier! We are always growing our integration options, so continue to check back online or with your Purplepass representative to see what future integrations are coming your way. Here is a quick breakdown of some of our widgets how they can help you:

Ticket Widgets: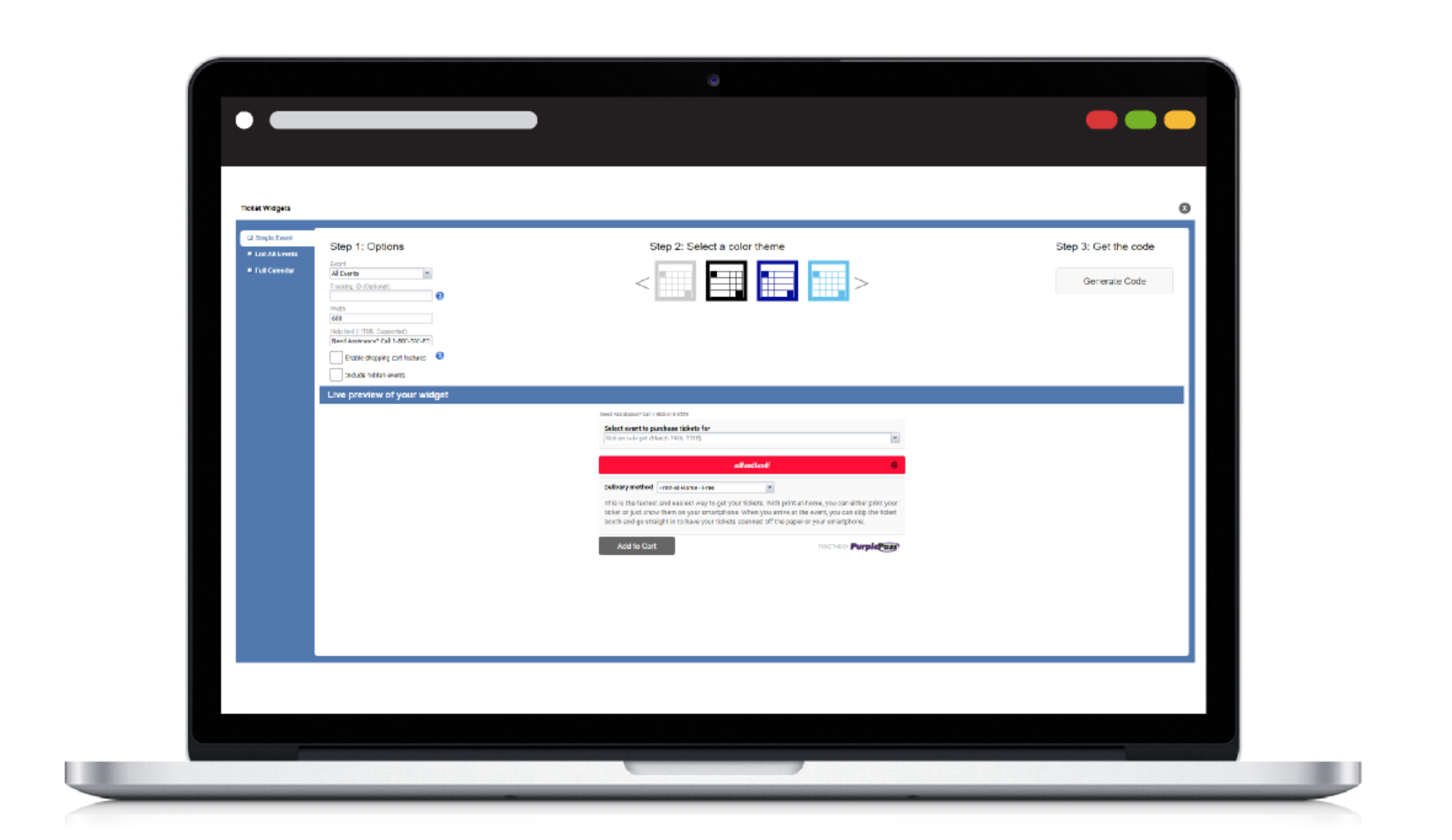 With a few lines of code, you can fully integrate the entire buying process directly into your own website.
Guests can go to your site, learn more about your events, select their tickets, pay for them, and download their tickets without ever leaving your website.
This is the ultimate solution for a streamlined buying process for your guests that is simple and branded.
Just copy and paste a few lines of code into your website and you are all set. No programming skills needed and our widgets work on every type of website platform.
Site-Wide Shopping Cart: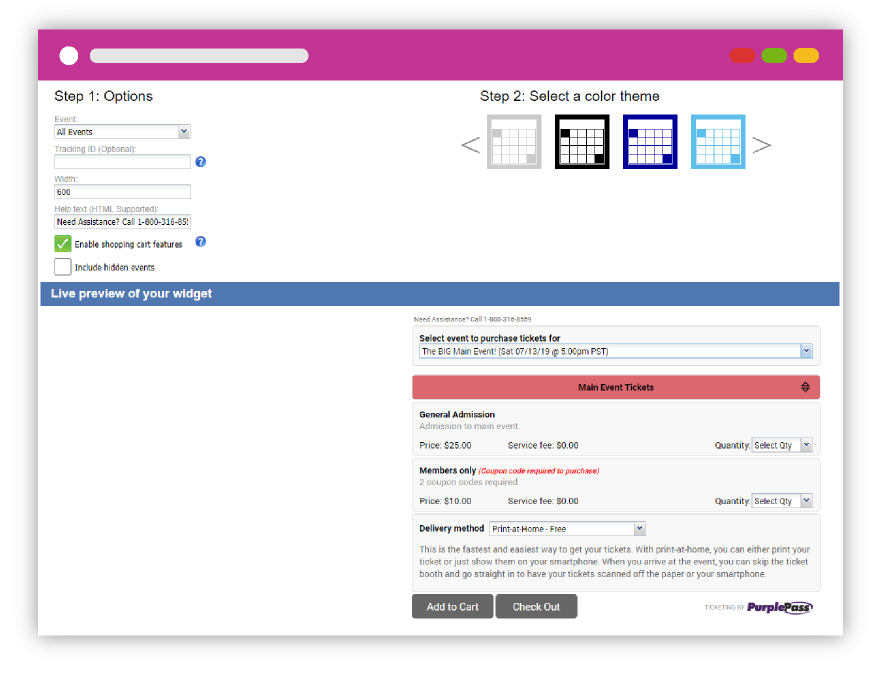 Our widgets support a shopping cart feature which will allow you to post several widgets throughout your site yet allow them to all function as one single buying platform.
For example, let's say you have 5 difficult events on sale and you have different pages for each event on your site where guests can read more about each event.
On each of these pages, you can have a widget to select tickets, add to their cart, and then continue browsing your site.
When they are done, they can click the Cart button to check out and purchase their tickets all in one transaction, without ever leaving your site


Tracking Your Event Sales:
The ticket widgets fully support source ID tracking so you can even place widgets on various pages on your site or even totally different affiliate sites. In your marketing stats, you will be able to see exactly how many sales were generated through each widget.

Facebook Integration:
The holy-grail of social media integration. Your guests can be giventhe option to have their tickets linked to their Facebook account. When they arrive at your event and their tickets are scanned in, they will be automatically checked in at your event on Facebook. On the day of your event, Facebook will be lighting up with check-ins at your event! The ultimate free social media marketing!
With this integration you have the option to include auto-check in, share, request or require to like; of course you can do all of these options if you prefer.

Eventful:
With over 21 million people relying on this platform, Eventful is the leading global service allowing people to discover local upcoming events, concerts, festivals and more!
Events posted on Purplepass will be automatically syndicated and published all across the internet through Eventful to event listing sites, local newspapers, etc. Spreading the word about your events just got even easier with this new integration!
---

Step 5. Promote & Track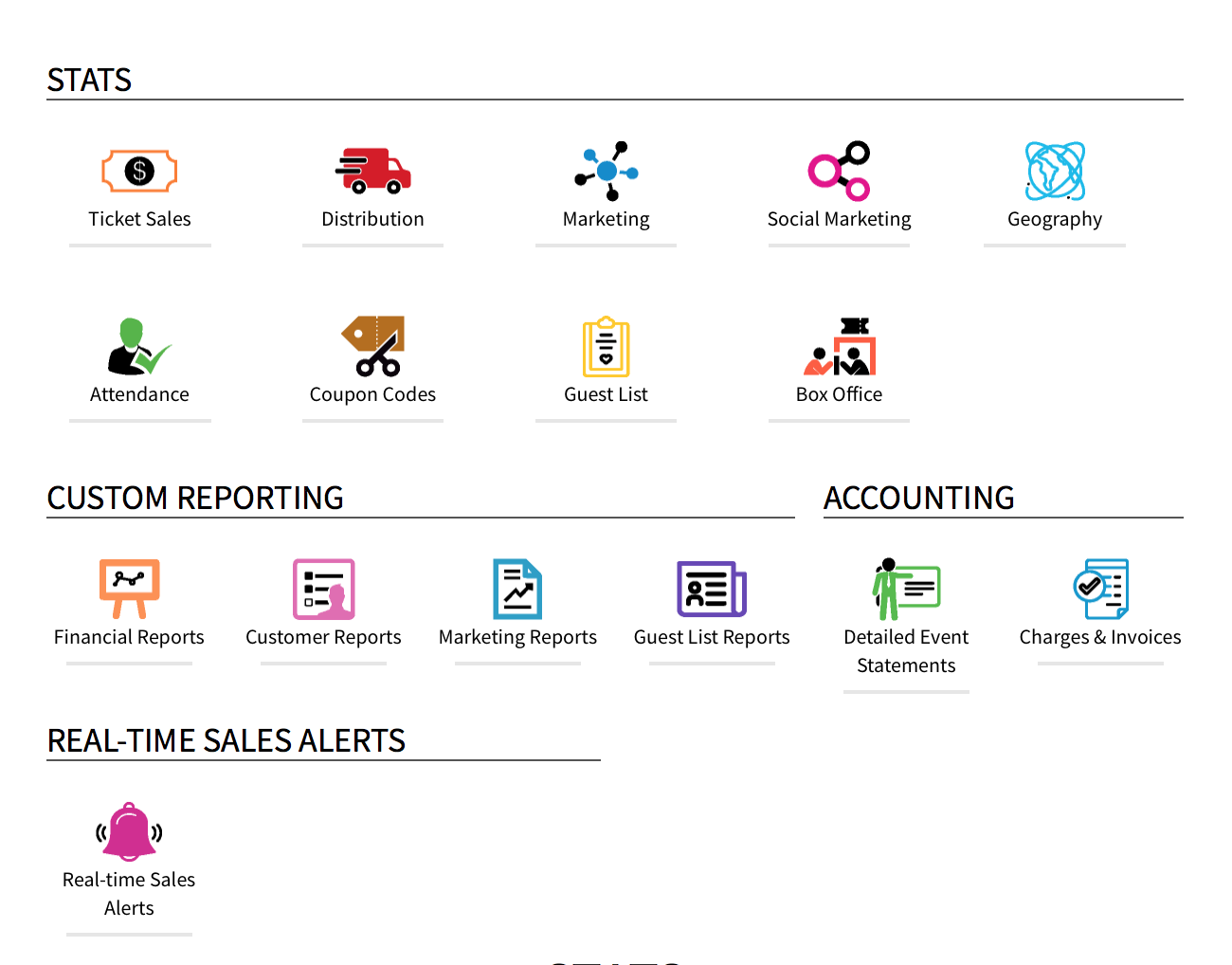 Everything is officially setup in just four steps, so now you can track your progress, box office sales, guest list stats, main event admissions, etc. Use the built in marketing tools in your account to promote your event and track performance.
We offer full stats, customer reporting, accounting support, and real-time sales alerts. You also have the ability to monitor your marketing efforts by tracking links, SEO optimization, email marketing, customizations and more!
---

Step 6. Scan and Sell At The Door
Finally, the last step of your event registration, getting people through the gate. Don't worry you aren't alone. We have all the equipment available to you that you might need depending on your event.

With each equipment item we include how-to instructional guides and have videos available online for training purposes. If you are still lacking confidence, we offer on-site help as well per request wherever the location; we can be there. Purplepass Ticketing is not only easy to use, but also requires no contracts to sign up and has lower fees than most ticketing companies. You can read reviews form real event promoters at Capterra.com or request a free demo below.