Need An Event Promoter? Here's Where You Look
Is your event coming up? Are your ticket sales not as you'd expected? If you are too swamped to promote your event, it might be time you turn to an event promoter.
These professionals will work hand-in-hand with you to help market your event, essential, increasing your market reach. Finding the right person for the job is essential for boosting your ticket sales and launching real campaigns that attract your target market.
Where to find event promoters
So where do you start?
You need to find the professionals necessary to do the job that are the right fit for your event. If you've attended an event similar to your own that had a strong turnout or even a sell-out, start by seeking that event's promoter, if possible. If you don't know of anyone just yet, consider these tips.
#1: Always go with referrals
There's no better way to find a true expert in the industry than using word-of-mouth referrals and recommendations.
Friends, colleagues, industry leaders who have used their services in the past can offer honest recommendations to you.
Sometimes, they'll tell you the good and the bad about any marketing professional they've worked with, helping you avoid possible future problems with bad apples. Recommendations can come from anyone that's hosted, managed, or has been involved in events.
If you want to save time, resources and make sure your money is being used wisely, get referrals. Here are some ways you can get recommendations:
Ask the event promoter
Look up their past events and contact previous employers (schedule a call or through email)
Find their account on LinkedIn and locate their recommendations
Look up their ratings on Yelp if available (people will say if they recommend them or not)
#2: Use a listing service
Just like any other job out there, event promoter positions are listed through online job boards. This is a sure-fire way to get a lot of applications for the work you need.
You must weed through the applications to find the individuals who really click with you, meet your needs while having the necessary experience. Useful sites for this include:
#3: Connect on LinkedIn
Did you know LinkedIn has a job board?
They do!
You also may want to check out people using the site that lists their career as an event promoter... basically their entire resume should be available to you.
This way, you can see examples of the work they've done and what previous events or company it was through. A LinkedIn profile for an event promoter is an easy way to screen these pros, too.
Here's how you do it:
1. Click the "Job" option in the top navigation bar.

2. In search, enter event promoters/planner and the location you need them for.

3. Change the "Jobs" option to "People".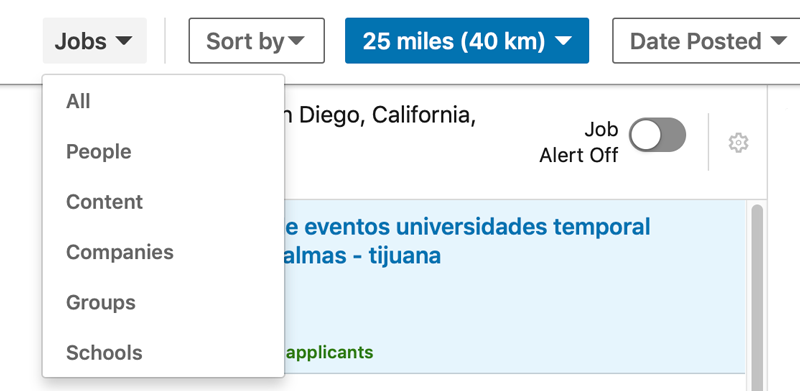 Now you have access to a variety of different talent with the title and location you are looking for. If you want them to come to you, you can also post a job for people to apply to.
Hiring an event promoter

You've found a few people who can do the job for you.
Perhaps they are experienced and well-known. Most of the time, they won't be, since a promoter's job is to advertise your event, not themselves.
That's why you need to do a bit more work during the hiring process to make sure you are getting the right person.


1. Get references from the promoters
Ask the promoter what type of work he or she has done in the field, experience, background, etc.
What local businesses have they worked with, or which venues have they been a part of in the local area?
Find out who they've worked with in the past recently and ask for a reference sheet to contact each individual. Reach out to their references to find out what their experience has been with the promoter and if they did what they say they did.


2. Find the right fit
Do you plan to use this professional for a reoccurring event or just a one-time show? Do you need them to handle the entire promotion of the event, or just components of it?
Outline the specific skill set that you need this professional to offer for your event.
When you do, you can work down the list checking off those who fit those skills, fit your availability, narrowing down your options.
Remember, know what you want before starting the hiring process:
Part-time or full-time position?
Are they just promoting the event or will they be doing some planning as well?
Is this a one-time event or recurring?
What is the timeline of work you need them for?
Is this freelance work or a position on your team?
Are they working solo or being placed on a team?


3. Ask for ideas
A good way to know the skill and experience of an event promoter is simply to ask them how they can help you or ideas they have for your event. You know what you need, now find out what they recommend.
What types of promotional methods do they use?
What results have they seen in the past?
Are they using advanced methods and tech, or are they still using just one form of marketing?
You want someone that can bring something to the table, if they can't offer any new ideas, why hire them?
Here are some ideas for the type of questions you can ask them:
What techniques and tools do you use to keep yourself organized?
What marketing tactics do you use to learn more about your target market?
Tell me about your favorite event you promoted and why?
How do you work with others?
What is one strategy you would use to market our event?


The more you know about an event promoter, the better you can find the right fit for your needs. Don't underestimate just how important this process can be in determining the success of your event.
"What if I can't afford an event promoter?"
Don't worry, if your budget is tight you can get around needing an event promoter with free online automation tools. Our planners use Purplepass to act as their virtual event promoter ... they can set it and forget it.
How you can use your Purplepass account to do the work of an event promoter:
Integrations: Automate your social media connections, mailing lists, and incorporate your ticket sales online on your homepage with widgets that personally your buyers' experience.


Promotion Services: Every event posted on your account automatically gets published on to event promotion services for free. Basically the work of an event promoter.


Newsletters: You have the option to be featured on our weekly event newsletter and share your banner on our homepage. Free advertising?
Other free marketing tools include tracking links, SEO optimization, email templates and integrations, social media sharing tools, and more. AND if your event is free, so are we along with all our services.
If you want to learn more about using Purplepass as your new event promoter, you can request a free site demo below.