What to Include in Your Sporting Event's Registration
When planning a sporting event, one of the key details to address is the event registration.
If you are searching for ideas to make your registration process more convenient and streamlined, consider incorporating a registration software into the mix and include these items in your plan when you are coordinating your next sports event registration.
Check registration off your list
Request a demo now to set up, create and start selling
tickets with Purplepass. An all-in-one event
management hub.
Season passes for families and fans
One of the most popular items with fans is season passes.
This is for the fan group that plans to attend multiple events throughout the season and allows them to basically get all their tickets covered in advance at a discounted rate.
Selling them during registration, whether at the gate or online, is a great way remind guests about this opportunity to plan and save some cash.
In addition, providing easily accessible season pass options will help encourage them to attend the majority of the scheduled games, therefore, increasing attendance at future games.
Season passes can easily be purchased just like a regular ticket directly from the admission window or they can also be purchased online from the team website.
This is a popular item that should be included in your registration!
Build custom seating maps
If you need assigned seating for your event, we
will build maps for your venue, free of charge.
Team merchandise
This might be a given, but not everyone includes this during the registration process.
It's more likely you will see an increase in sales on merchandise by including it as part of the check-out process when purchasing tickets online then expecting them to purchase something at the event.
You can choose to also include an additional merchandise table next to registration to provide more space for guests to browse the selection if you wanted to make it available at the gate.
Event organizers can also include free items such as T-shirts to fans who buy season passes to promote their sale.
Some merchandise items to include at registration are:
Team T-shirts
Flags
Noise makers
Novelty signs
Hats
Scarves
Foam Fingers
Handicap and disabled seating map options
Proving handicap and disabled seating information at the registration area is convenient for guests because it allows them to easily locate the appropriate seating sections without confusion.
This will also help decrease the amount of support you need because you are eliminating the number of concerns people have regarding this issue.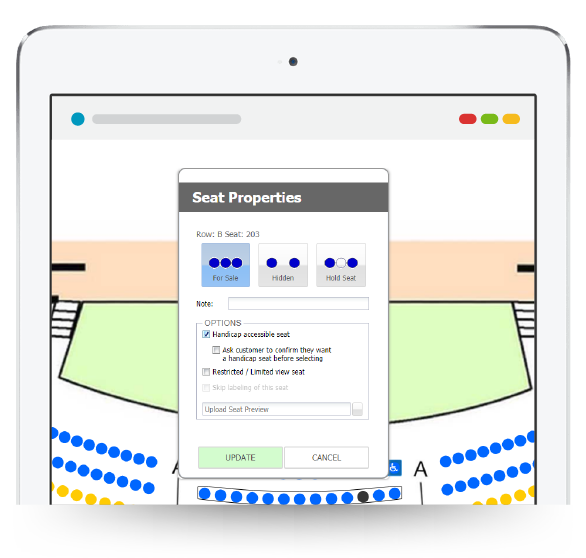 Find a registration that has a user-friendly seating map for your venue to easily point out handicap seating, exit points and the layout of the event.
You can also provide printed maps to give to the public to help them find the appropriate areas without any issues.
Sell merchandise with your tickets
Need to sell t-shirts, drink tickets, merchandise?
Give guests the option to purchase them at checkout.
Food and drink tickets
Another way to streamline admissions while boosting sales is to provide food and drink ticket options during the registration process.
Guests can purchase tickets, along with any food/drink tickets they may want to cut down on additional lines and the need to create a separate area to sell those items.
It's an all in one solution that can work for most sporting events and will make the ticket purchasing process less complicated.
Offer a variety of ticketing options
Every guest is unique and by providing a variety of ticketing options, you are acknowledging that every guest deserves a ticket that works for them.
Adult, senior, child, military, family pack, group options, emergency services, season passes, VIP, COMP etc.
There are so many options that you should be providing so you guests aren't stuck having to choose, but find one right away that works for them.
Whether at the gate or online, have the appropriate options visible to people who need to make a ticket purchase so they can easily choose the right option when they arrive at the window or table.
Provide coupon codes and discounts
Consider keeping discount codes and coupons for player's family members at the registration area to encourage more supporters.
The team will likely provide a list of family member's names to help match them with the appropriate discounts.
Work with a ticket registration that can identify the individuals who are eligible for the free passes or comp them for you.
Why you should be using coupon codes
Offering discounts is a great way to build
customer loyalty and offer flexibility for your guest.
You can also apply this concept to event workers and staff so they are able to purchase a free ticket ahead of time to quickly get into the event for later shifts.
Establishing a well-organized and convenient registration area for sporting events will allow guests to handle any transactions before the event begins giving them time to sit back and relax during the festivities.
Try incorporating some of these ideas into your next event's registration protocol.