Top Free Social Media Management Software Pros And Cons
Using a social media manager tool is a great way to increase your visibility and promote your brand without the hassle of constantly worrying about keeping up with your posts.
It makes the job of maintaining consistency on social media that much easier and reduces your workload. The tough part is cutting costs and finding a software that does what you need for free.
There are a few free sites that offer quality services for those who are just starting out, or who are on a budget.
These social media management sites also offer upgraded services for a fee usually after the initial trail if you want to continue integrating them into a marketing approach. Keep reading to find out more details about a few great options to help make your brand more accessible and relevant while connecting with social media users.
Crowdfire
Crowdfire is a social media management tool that is free to use for up to two different accounts. It gives the user a few different options for posting relevant material across all of their social media platforms.
While using Crowdfire is an economical way to keep a consistent presence on social media by regularly posting images and articles, it also has some drawbacks that may not be suitable for people who need dramatic results.
Users can opt to sign up for the upgraded version that starts for as little as $7.48 per month.

Pros:
Crowdfire is free and easy to use
It curates a variety of content and images that is directly related to your campaign
They feature advanced analytics to monitor all platforms
You can use the tool for a variety of platforms
They offer useful social media tips for growing your account
Their interface is very interactive and user friendly


Cons:
Crowdfire only features content from users
This option only targets others who have a large number of followers
Only compatible with WordPressor Blogger with blog tool
You have to schedule posts individually, you can't mass create and post unless you upgrade
Guarantees to get you followers, but they are fake (follow-for-a-follow).


Hootsuite
Hootsuite is one of the leading names in social media management today. They are known for their high quality tools and multiple methods of brand promotion. In addition, they offer a free trial to help potential customers determine if it is a good fit.
Users who decide to continue with using their services have three different options for service subscriptions. The most inexpensive starts at $29 per month and allow you to use 10 profiles for a single user.
They also offer a free plan that can manage up to 3 social profiles for 1 user only.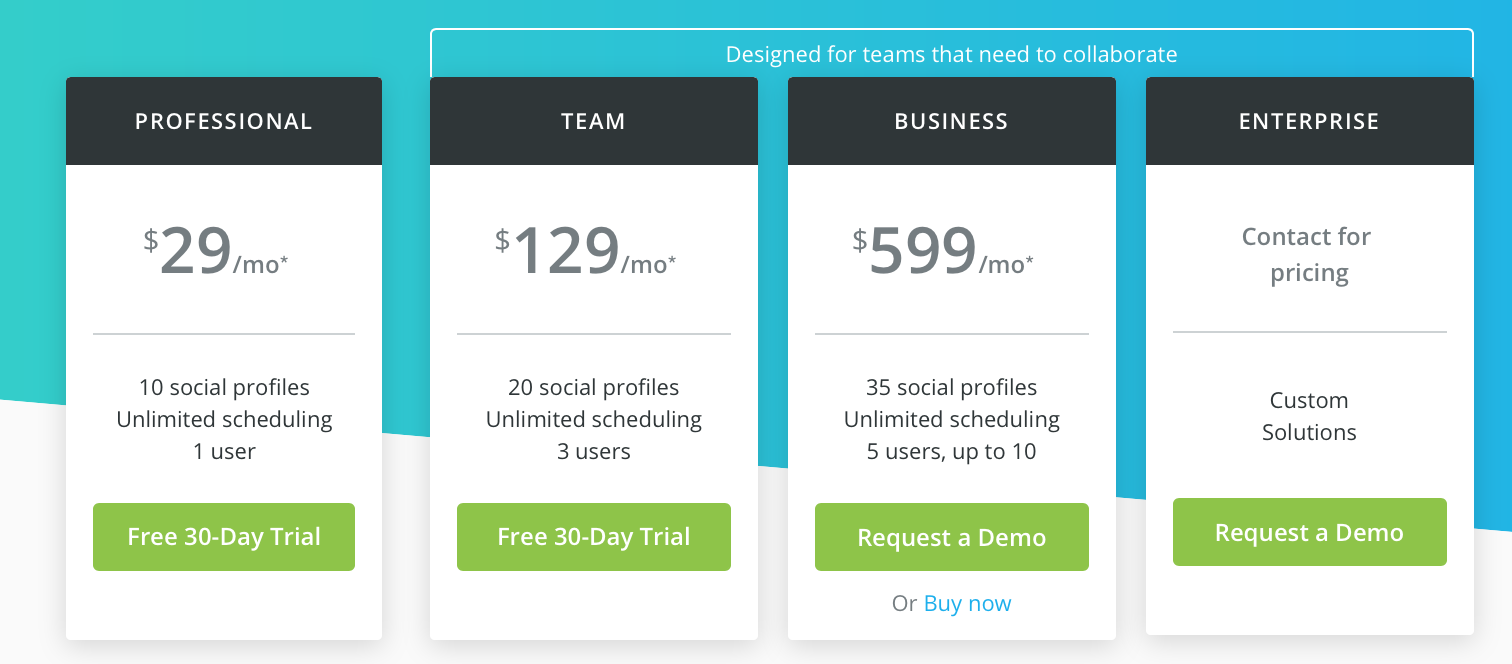 Pros:
Hootsuite allows users to manage all profiles from the dashboard
Single click reply option
Advanced analytics allows for tracking brand growth
You can manage up to 3 platforms for free
There is a lot of social networks supported
A variety of integration and apps you can install


Cons:
Requires advanced knowledge of computers and analytics
May require separate instruction to be effective
The free version only allows one user
Extra app fees
Extensive time to learn the entire interface
If you want extra training, it will cost you $21 a month



Zoho Social
Zoho Social is an great choice for people who want a quality social media manager. They offer a 15 day free trial to help you determine if they have the features you are looking for and then give you the options to purchase a plan.
It is a user friendly site that has multiple tools and flexible scheduling to fit business or marketing company's needs. Anyone who wants to purchase a plan after the trail can start for as little as $10 per month.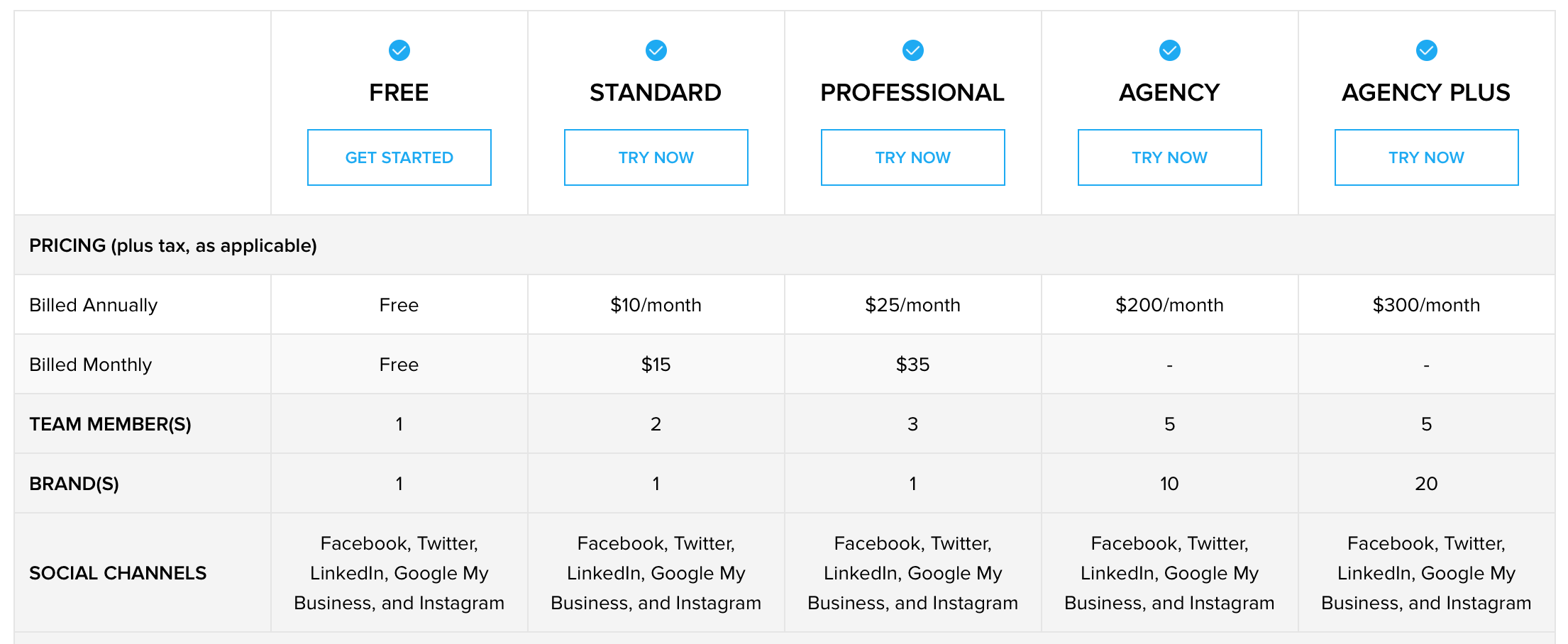 You also have the option for a free plan (see details above or learn more here).

Pros:
Great for blogs, photographers, and marketing campaigns
Flexible scheduling tool
Visual Editor
Responsive customer support


Cons:
May not be ideal for global companies
Basic analytics
Unable to support videos
Faces a lot of technical issues (I know this from experience)
Bad layout and interface
Buffer
Buffer is a great tool for larger teams of people working on a branding or marketing campaign. It works much like the other options, but it can also allow up to 25 other team members to access according to levels with approval.
It adds a layer of security while making it easier for individuals to work on the areas they are assigned. Anyone who wants to give it a trycan use it for 7 days and has the option to upgrade for as little as $15 per month. Premium and business options are free for 14 days.
You also ave the option to try their basic free plan with up to 3 social accounts and 10 schedules per post with 1 user.

Pros:
Great for teams
Flexible scheduling
Analytics and review
You can mass schedule ( post the same thing multiple times )
You can filter your engagement analytics for a complete breakdown
Tells you the best times to post
You can integrate blog feeds and links
Free or cheap pricing plans


Cons:
No Instagram integration
Fewer tools for monitoring activity
The free version is limited


Businesses and marketing agencies alike can benefit from using social media management. Try out these top options to discover which one is the best fit for your needs and can give you the tools and benefits necessary to maintain a presence on all of your social media sites.