The Dos and Don'ts of Planning a Conference
Perhaps you are considering planning a conference, or you are planning one right now?
If that is the case, consider this helpful information to make the entire process more effective and reduce potential conflicts and problems.
With some careful consideration and planning, you can pull off a great conference that makes attendees eager to return next year!!
Do
Take these tips and put them into action to help you plan and execute your next conference.
1. Do find a ticketing registration software that offers full support:
When shopping for a ticketing software, select a reputable company with plenty of flexibility and options that also include full support for you AND your guests.
Your event starts at your registration, so it's important to work with a company that isn't going to put a limit on your needs or your creative vision.
Purplepass offers support for your guests
You aren't alone. We will take your calls as well
as your guests, transfer tickets, submit refunds, etc.
Conferences are all unique and come with different challenges and requests, that is why it's important to make sure your choice of admissions is flexible and can customize your packages to fit all your guests' needs.
2. Do avoid conflicting with other event dates in that area:
Select your conventions date with high consideration so it doesn't conflict with other conventions or community events within the industry or in the area.
You will ensure a higher attendance rate and fewer complications by paying attention to the selected date.
It also helps to know if there are regular occurring events in the area that may have not been announced yet, but are already anticipated for a certain time of the year, especially if you plan far in advance.
3. Do find a venue that accommodates your vision:
Before looking into venues, create a mock-up or vision board of your event and what you expect. This should take into consideration your total estimated guest count, vendors, activities, the number of booths, etc.
Then assess the space you will need for your event and the overall layout idea. Once this is envisioned, you can eliminate and evaluate the different spaces that come close to meeting these needs.


When it comes to venue hunting, be sure to consider the following:
Parking: A venue that offers parking is one less thing your guests have to worry about, which enhances their experience from the start of the event. The easier you can make things on your guests the better you look in the end.
Onsite Help: Outside of the event, planning it, and keeping everyone on track, set-up and tear-down is another exhausting item to check off on your never ending list of things to do on the event day.
Instead, save yourself the time and money, by securing a location that keep crew hands on site to assist with the heavy lifting of construction and deconstruction of the entire event set-up.
Venue Spec Sheet: Most event planners should have a spec-sheet that is provided to the venue operator before even signing a contract. If you don't have one, make it a part of your event practice. The spec-sheet, detailed requirements, can be inserted into the general contract to confirm that you will be able to utilize specific technology use at the event venue. .
4. Do create a planning checklist:
Creating an event checklist will help you keep track of your progress and prevent important points from slipping through the cracks.
Checklists are a great way to help you organize your approach and can even eliminate unnecessary conflicts and issues.
Download our free ebook, The Day Before Your Event Checklist to make sure you are fully prepared for your next conference.
Don't
Avoid making these mistakes so you don't run into trouble along the way.
1. Don't let your vision cloud your reality:
It is important to have a vision and design concept for your final outcome, but you must also avoid letting that vision prevent you from being realistic about expectations, issues, and the overall situation at hand. It is realistic to know that some things may not go according to plan and may need to deviate from your original version.
Every good event planner has to learn how to handle these changes with grace and be flexible as the planning phase changes along the way.
2. Don't forget to focus on your guests:
You are planning for the vendors, exhibitors, working with the venue, but don't forget about the most important people at the event, your guests!
You want this to be a memorable experience for them, so it's also your job to make their attendance easy and accommodating as possible.

Here are some things you can do to assist your attendees:
- Offer hotel accommodations and pre-booked rooms
- Create a parking plan or transportation information
- Send out weekly emails with updates on the event such as guest speakers, venue and local information, accommodation options, changes, cancelations,etc.
Keep them in the loop as much as possible and do everything you can to make it easier for them to attend.
3. Don't forget about your marketing material:
Marketing an event is a full-time job and can be very time consuming.
It's a crucial step to make sure you are not only promoting up until the event, but creating appealing signage and other material for throughout the conference area as well.
- Banners
- Safety/directional signs
- Business Cards
- Brochures
- Pamphlets
- Programs
- Merchandise
- Stickers
- Books highlighting speakers
- Maps
-Digital Displays
4. Don't forget to create your marketing plan:
As soon as you decide to begin preparations for a convention, it's time to start creating your marketing plan.
This plan should evolve as the convention plans come together.
Creating an effective marketing strategy tailored for your event is the key to boosting attendance and generating revenue.
One way to do that is by designing your marketing approach around your target market; who is your predicted audience, what are their demographics, why would they be attending this conference, how is it benefiting them and their lifestyle?
1. Know your goals and set realistic ones.
2. Know your target market. If you don't know your target audience, your campaign is pointless. The easiest way to know your audience, is to take your top 5 clients and turn them into buyer personas to create your campaign for those type of consumers.
3. Know where to promote. Once you have your target audience, you should have enough information on them to tell you the best way to reach this market place. Social media, event listing websites, community listings, traditional advertising, digital ads.
5. Don't underestimate the number of staff you have:
When it comes to large events, it's always better to be over prepared than under.
Always make sure there is enough manpower to handle all the tasks at the convention and have backups available if any of the staff must leave or don't show up for the workday.
Staff members are much more effective if they have a manageable workload and don't have to cover for other workers or there is a lack of staffing.
Don't forget about your volunteers; the heart of your staff.
If you want to stay within budget, and I know you do, you will want to take advantage of a volunteer programs as well.
Here is a list of jobs volunteers can work:
- Marketing Assistant
- Security
- Parking Assistants
- Service Staff
- Clean up, Set-up,Tear-down crews
- Event coordinator assistant
- Registration and Box Office Staff
- Day-of Assistant
- Food & Merchandise Stands
- Technical Operators
- Information Booths
Don't go over budget:
The easiest way to create a realistic budget is by creating a budget sheet (see example left).
Create a spreadsheet outlining all your costs, what you can spend on each item and add that to your total budget.
This budget sheet is your guideline and negotiation points when discussing costs with each vendor.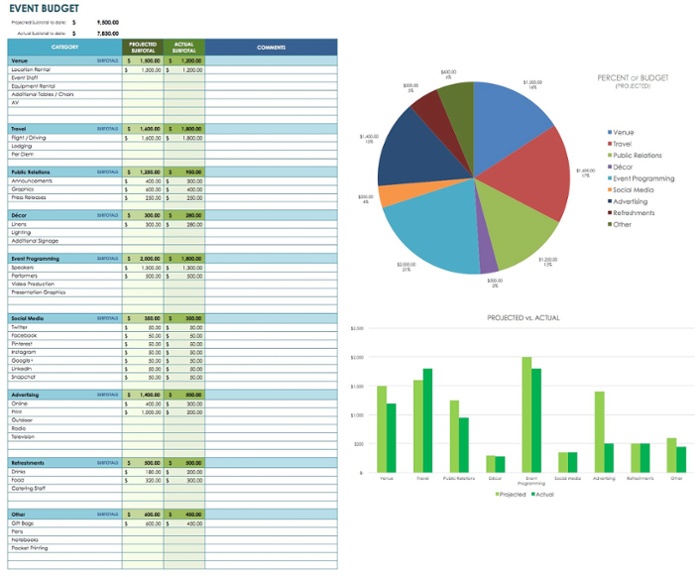 When your event has ended, you can return to your budget sheet and see if you exceeded your budget or not to help plan for expenses next year.

Be sure to allow extra funds for emergency purchases and unforeseen costs that can crop up during the event.
Whether you are already experienced with planning conventions or you're preparing to tackle your first, you can make the event more effective and streamlined by following our list of Dos and Don'ts.
Check registration off your list
Request a demo now to set up, create and start selling
tickets with Purplepass. An all-in-one event
management hub.