How COVID-19 Has Changed the Event Industry For Good
There are few industries the COVID-19 pandemic hasn't had a dramatic impact on. However, sectors focusing distinctly on connections with the public are among those experiencing the most turbulence. Event planning certainly falls into this category, with restricted travel and gathering forcing professionals to rethink their approaches.
One report found that between March 2020 and the end of the year, 64% of conferences had been canceled entirely.
Easy to live stream your event
Purplepass' live streaming widget
keeps the broadcasting on your site.
No third parties or redirects.
Yet, even as we approach a post-COVID landscape, this doesn't mean events will look quite the same as they once were. The needs of the public have changed, new protocols have been developed, and some solutions intended as emergency reactions have transformed into event trends.
To thrive in the events industry beyond the pandemic, you need to understand what these changes look like and how you can best leverage them to the advantage of your business, your clients, and the community.
Let's take a moment to dive a little deeper into this issue.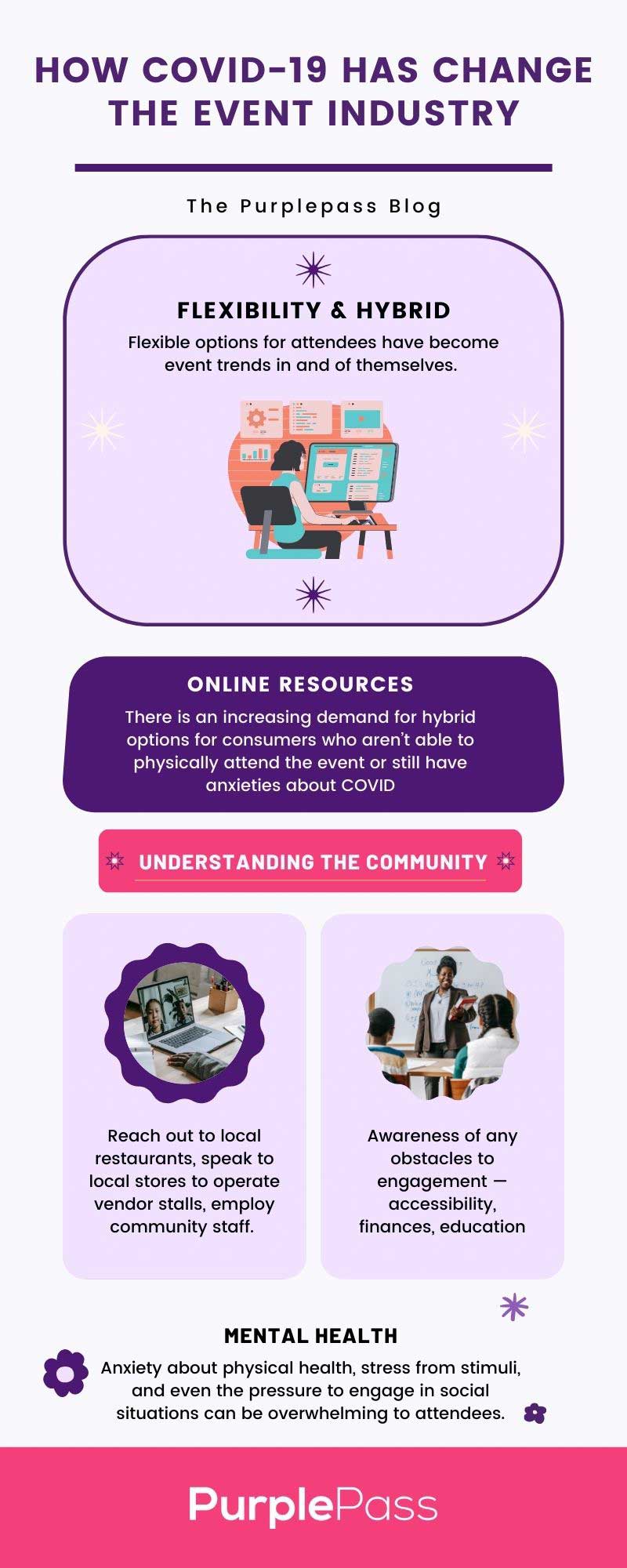 Cleanliness
If your event venue is indoors or out, attendees will expect there to be a significant level of cleanliness.
Keep doors open wherever possible to limit the need to touch door handles.

Route the flow of traffic in a single direction.

Allocate mingling areas large enough for people to maintain safe distances from one another.

Creating a separate entrance and exit
You should also look at the event technology you're utilizing — consider contactless registration, food ordering, and payment options.
Mental Health
Over the last year, there has been a change in how people experience anxiety in particular. Clinical psychologist Kruti Patel posited one of the most significant contributors to this current state of anxiety was the sense of increased isolation.
She suggested that "In the beginning, more people were focused on fear of how long quarantine would last and transmission of the virus. It slowly changed into stress around isolation and loneliness as we stayed longer in quarantine." Your event can help to pull people out of this loneliness and into making meaningful connections.
But you must also take care to approach this as an easing into human company, rather than throwing visitors into crowds. Anxiety about physical health, stress from stimuli, and even the pressure to engage in social situations can be overwhelming to attendees.
It's wise, therefore, to make sure there are supportive resources available to attendees.
Provide break-out rooms with limited capacity to give visitors space to decompress.

Offer a combination of indoor and outdoor spaces to ease the saturation of noise and crowds.

Even staff trained in mental health first aid and highlighting their availability can be valuable.

Provide masks and sanitary tools, if needed.
Prioritizing Flexibility
One of the recurring themes for most businesses in the past year of the pandemic is the need to be agile. The challenges of COVID-19 have been turbulent, often unexpected, meaning that to survive events, companies have needed to adopt flexible procedures.
The events industry has been no different.
However, you'll find this has created an expectation that will last beyond COVID-19. Flexible options for attendance have become event trends in and of themselves.
Online Resources
Even in circumstances where your event isn't only online, there is an increasing demand for hybrid options to be available to consumers who aren't able to physically attend the event or still have anxieties about COVID. This can be offered through:
Video conferencing technology

Breakout chatrooms
Most platforms have some kind of streaming option, which means you'll be able to capture a wider audience. However, it's important to be mindful of some best practices when operating in this environment.
Keep your equipment simple

Make sure your attendees are notified in advance and at the beginning of the stream

Be certain event staff are monitoring the stream
Understanding the Community
Great event planning doesn't happen in a vacuum. It has to be informed by the community you're serving. This is especially the case when you're planning charity events or outreach services.
However, you'll find COVID-19 has caused some distinct shifts in the needs of different communities. What might have been relevant or attractive to a certain demographic before may not be appropriate in a post-pandemic marketplace.
You, therefore, need to put time into re-educating yourself on the priorities, preferences, and challenges of the community you're targeting. Often the best way to go about this is by applying principles that earn the engagement of the community members throughout the planning and execution process.
Reach out to local businesses and community leaders to familiarize yourself with the issues, socio-economic makeup, and cultural nuances of the local demographic.

Look into what specific community needs your event can address besides any commercial or marketing priorities of the project.

Stay keenly aware of any obstacles to engagement — accessibility, finances, education — and design measures to navigate these as part of the planning process.
Remember, most communities have struggled through the pandemic; small businesses have seen a drop-off in custom, individual members have experienced unemployment.
You can build enthusiasm and make a positive impact on the community by working wherever possible with talent local to the host neighborhood of the event. Reach out to local restaurants to inquire about catering, speak to local stores to operate vendor stalls, employ staff from the community.
A discount for nonprofits
Registered nonprofit? Purplepass offers
a discount rate for all nonprofits.
Conclusion
The events planning sector has changed through the pandemic, and some of these changes are here to stay. To remain successful, you need to put effort and investment into measures to maintain wellness and make your events more flexible.
This, alongside some, focus on how your practices can better engage altered communities, can help your events thrive.