Gateway Community College - Massage Clinics Begin!
Welcome to Gateway Community College (GCC)!
A community committed to serving their diverse student body, a community with all of the variety in age, ethnicity, socioeconomic status, religion and culture that our state has to offer.
GCC offers over 90 degree and certificate programs with full assistance to help you navigate through your courses and to graduation.

Let GCC help you fast-track your degree or successfully transfer for your bachelor's degree. The future is up to you! Over at Maricopa Community College, their massage clinics have begun!
A massage for just $20 an hour, you can't beat that!
The Student Massage Therapy Clinic is located at Gateway Community College - Deer Valley Campus.
All services are performed by students under their instructor's supervision available only Monday through Thursday: 8 a.m., 9:15 a.m., 10:30 a.m. and 12:15 p.m.

Throughout this program, students participate in a three two-week clinic program that is open to the public who can come and receive messages from the students.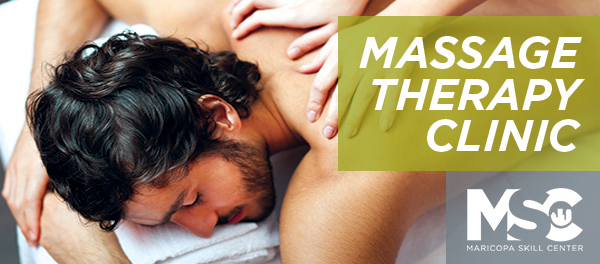 "Our program offers the added benefits of being more affordable than most of the competition, having better relationships with the three largest employers of massage therapists in the nation and the greatest focus on hands-on training."
- Michael Tapscott, Massage Therapy Instructor


The clinic uses Purplepass Ticketing to handle all ticket sales and make it easy to bring in more customers for their students.
Through Purplepass, the clinic can offer a variety of different dates and times for their clients to choose from, and also offer different delivery methods to make accessing their tickets even easier.


"PurplePass takes care of booking our student Massage Therapists so they can practice and frees us up so that we can teach. Massage clinics are key to getting our students the valuable practice they need while providing extremely affordable massage to the general public. But in the past teachers spent a lot of time booking appointments and processing them instead of teaching. PurplePass has taken care of all of that so our teachers can teach, our students can learn, and you can get a one-hour massage for just $10!"
- Michael Tapscott, Massage Therapy Instructor
What are you waiting for, book today!