9 Tips for Planning Events with a Food Budget
Successful event planning requires a great deal of thought and organization. You must wear many hats and manage several moving pieces. One of the most critical pieces you'll manage is the event's food budget.
Most event planners will agree that managing the food budget is one of the biggest challenges to planning any event. From charity events to company functions, the food you serve will make an impression on attendees.
Your catering budget doesn't have to break the bank. With a few money-saving tips, you can stay on budget and still serve a meal that guests will talk about for days.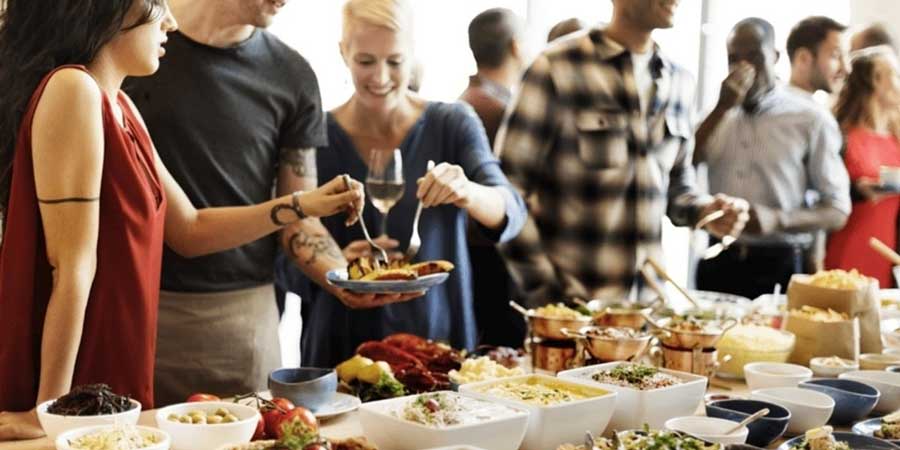 1. Partner with an experienced caterer
Selecting the right caterer is the first critical decision you'll make in planning an event. One might assume that partnering with a less experienced caterer will save money. In fact, the opposite is true.
Professional caterers with time under their belt have learned the tricks of the trade. They've had an opportunity to learn from their mistakes, as well as that of others. The lessons they've learned along the way will help you host a budget-friendly, yet memorable event. This leads us to our next point.
2. Communication is critical
Your caterer's experience can transfer into savings for you. But even the most talented caterer isn't a mind reader.
After deciding on a catering company, communicate your event budget. Let them know an approximate headcount and any food and service expectations. Your caterer can use this information to help you plan an affordable menu, without compromising the guests' experience.
3. Consider the audience
No event host wants to face the disappointment of running out of food. We also never want the guests to get the impression that the event was done on a tight budget. These concerns are the two primary causes of a derailed budget.
The great news is, you can have it all. Consider the type of event and the guests you've invited.
Do they appreciate fancy foods?
Are the guests adventurous eaters?
Are you going for a more laid-back atmosphere where guests mingle or is this a more formal affair?
Are there any dietary needs you'll need to accommodate? ***
The answers to these questions will give you a clearer picture of your catering needs. The caterer can then make economical recommendations based on those needs.
An accurate headcount helps ensure you have precisely enough food. Your guests will walk away satisfied, and you won't be left wondering what to do with extra food.
4. Offer a limited variety
If you're a foodie, selecting items for your event's menu is both exciting and overwhelming. There are so many great options to choose from; it's difficult to decide what makes the cut.
Offering a variety provides balance and satisfies the taste buds. Too many options, however, can be very expensive.
When narrowing down your choices, keep the (1) time of day and your (2) guests in mind. Use that information to set parameters.
Select a variety of foods, but limit your choices to items that best match the parameters you've set.
A good rule of thumb is to choose one or two options from each food category - main item, side dishes, and dessert.
5. Select cost-efficient foods
It's a common misconception that cheaper food means sacrificing quality. Utilize your caterer's training and experience to help you come up with a quality, inexpensive menu.
Have fun and get creative.
Vegetarian, rice-based, and noodle-based dishes satisfy both the palate and the wallet. Thai, Indian, and Mexican dishes are great options for any event. A quality hot dog or taco bar offers variety without going over budget.
Do you prefer something fancier?
Consider serving hors d'oeuvres. This enables you to mix more expensive options, such as mini crab cakes, with more filling snack foods.
6. Buffet over plated catering
Buffet-style catering can reduce your expenses by up to 50%.
They also offer more variety, ensuring every guest leaves satisfied. Collaborate with your caterer to create a spread that matches the atmosphere you're trying to create.
7. Enlist the help of volunteers
Staffing is one of the biggest expenses for a catering company. You can mitigate these costs by offering a self-service buffet or enlisting the help of volunteers.
8. Consider sponsorships
Remember earlier when we told you to think about the type of guest that will be in attendance? A clearly defined audience offers a unique opportunity to support a local business.
Think about the types of businesses your guests frequent.
1. What companies can help solve a problem they have in common?
2. What companies target your guests in their marketing strategies?
Once you've answered these questions, approach one of these organizations and ask them to sponsor your event. Create a proposal that highlights the benefits of the increased exposure.
When taking this approach, it's best to stick to smaller, locally owned businesses. Smaller companies will get more value from this mutually beneficial relationship.
9. Understand the fine print
Catering proposals can confuse and misleading.
Some proposals include tax and gratuity, while others don't. These details are critical to ensuring you remain on budget. Before making menu choices, make sure you understand what those symbols are next to each price.
A skilled caterer has several tricks up their sleeves to help you pull off a memorable, budget-friendly event. The key is to maintain an open line of communication and an understanding of your guests. Most importantly…have fun with it!