Help Keep Music Education Alive
Why is music the first cut made in our school systems? The reasons are endless: these programs aren't fundamental to the school curriculum, not a useful subject, uses a lot of the budget, etc. There are many benefits to music education that people lack to acknowledge.
By cutting our music programs we are encouraging negative creativity for our next generation of leaders and innovators while eliminating a beautiful craft for our students to learn.

Music departments who recognize these benefits are stepping up and putting their foot down by working with a local organization Help Keep Music Education Alive led by Paul Lococo to get bands booked for annual fundraisers in their communities.
The latest event, Chicago Total Access Live BPAC, is taking place in the Barnstable Performing Arts Center, Hyannis Massachusetts and will be their 8th annual benefit of Barnstable Music!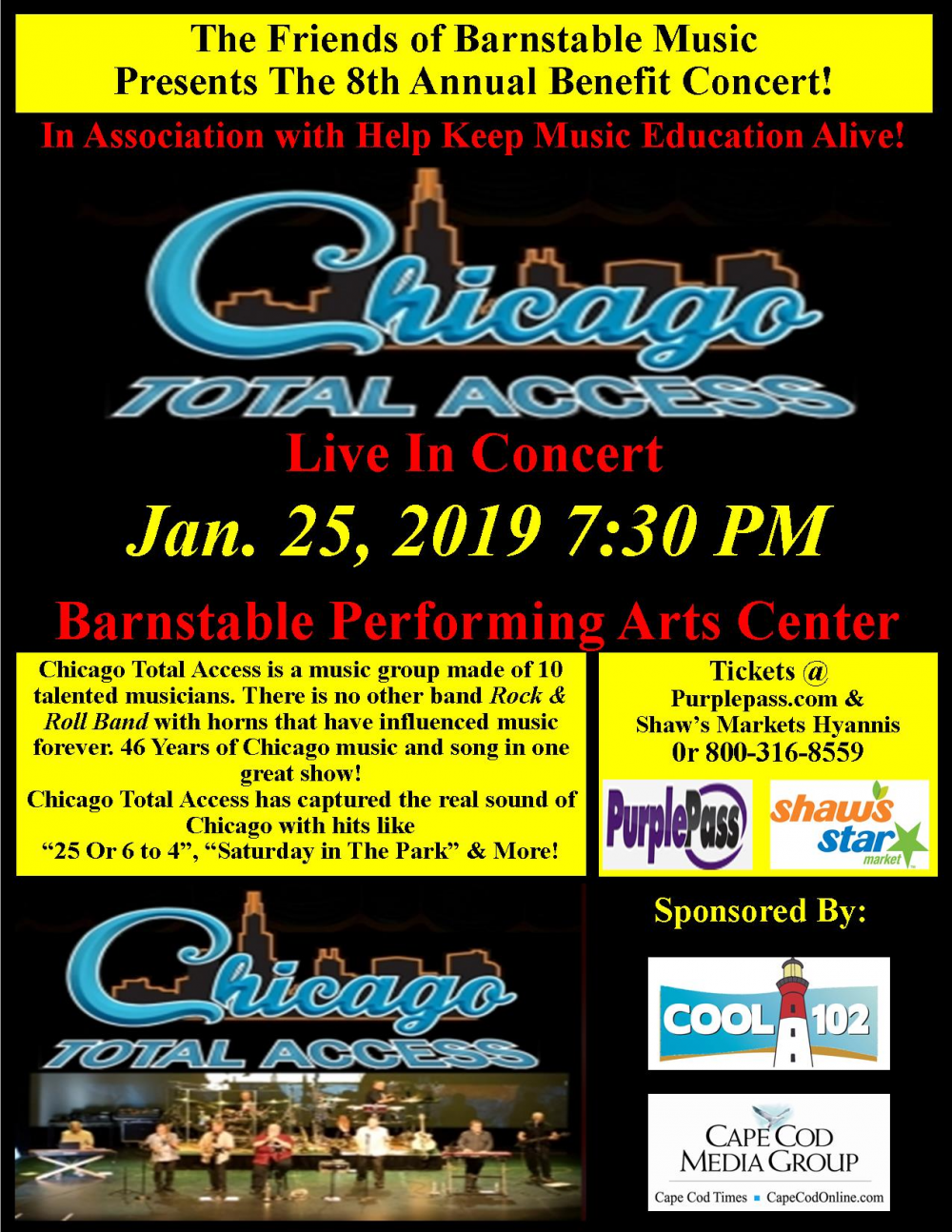 The music group, Chicago Total Access, is a group of 10 musicians that grew up listening to American, British pop/rock, the 60s and 70s, and even classical music!https://www.chicagototalaccess.com/live_dates/ However, this performance is dedicated to the American rock band "Chicago" and are attempting to recreate their timeless musical catalog of Chicago while producing original recordings.
"The printed word can never aspire to document a truly musical experience, so if you must call them something, speak of the city where all save one were born; where all of them were schooled and bred, and where all of this incredible music went down barely noticed; call them CHICAGO."
You can get your tickets at Purplepass Ticketing, with the option to sit VIP, lower or upper section of the stage. You can also get your tickets shipped to your door, emailed, or pick them up at will call; whatever is more convenient for you.
The event takes place Friday, January 25th, 2019 at 7:30 pm and doors open at 6:30. Get your tickets now and support your local school music department.
"I think educationally not only is the funding great for them, but it's educational for the students because they get to learn to play what may be new genre of music and they get to perform at Berkshire Community College, which is a beautiful venue with professional sound and production equipment, alongside a real band," said Lococo.
This program is a fun way for schools music departments to raise money and an educational journey for students who get to experience these performances with professional groups of musicians.
Past events have raised anywhere from $8,000 to $14,000.