US Sand Sculpting Challenge 2017

Master Sand Sculptors from Singapore, Italy, Ireland, Spain, the Netherlands, Russia and Canada are here to challenge the best sculptors from the U.S. and earn their share of more than $60,000 in prizes and appearance money. These World Masters in the amazingly unique sand arts, compete in a solo, head-to- head competition with a Saturday evening deadline. For 2017, we have 2 new international Master Sculptors joining us for the first time, and several former Grand Prize winners from prior U.S. Challenge events.
Our newest competitors are from nearly opposite sides of the planet: Jihoon Choi from South Korea and Abram Waterman from Prince Edward Island, Canada. To qualify for the event, Master Sculptors must have won awards at major international competitions within the past 5 years.
Returning Masters include Ilya Filimontsev from Moscow (Grand Prize 2016), Melineige BeauRegard from Montreal (Grand Prize in 2015 and multiple others in 2016, 2015–she won it all that year, 2014, etc.), Rusty Croft from Carmel, CA (Grand Prize in 2012 and co-host of Sand Masters on the Travel Channel), Fergus Mulvany from Ireland (2nd prize 2016 and several others), Thomas Koet from Melbourne, FL (3rd prize 2016) and Sue McGrew from Tacoma (2nd prize 2014 and Sand Masters TV personality). Friday and Saturday are great days to see them work and watch their incredible sculptures come to life. In addition to the World Masters, there's a Team Competition with members from all over the State and elsewhere in the U.S. Three-person groups, select a concept together and build their sculptures in a team format that allows them to create elaborate multi piece vignettes. Team Competition ends on Sunday right before the awards ceremony.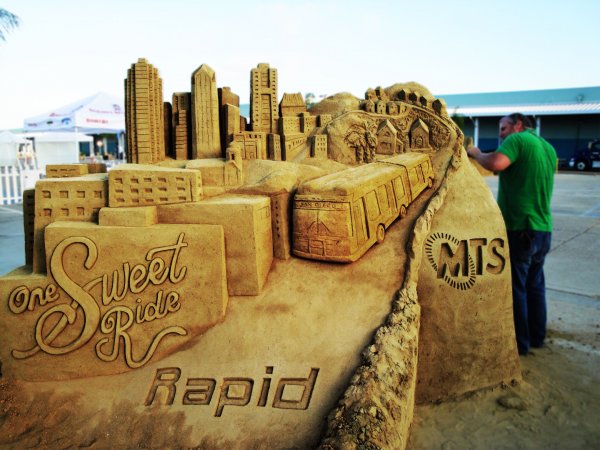 There will be live music to make the event a celebration and we'll be featuring some of the best bands in San Diego. Many will pay tribute to great musicians like the Beatles, Beach Boys, Dylan, Journey and even Elvis. Gourmet food trucks and a large comfortable dining area add to the party.
Lunch, snacks, coffee, ice cream and assorted treats will be available. We've taken care to select foods from across the country and around the world. Beer & wine will be available too. Adults will choose from areas for refreshment like our VIP Lounge along the water's edge. We watch the nearby Festival of Sail showcase their tall ships as the most dramatic of possible backdrops for such a stunning holiday weekend event on San Diego Bay.
Our Dimensional Art Exposition is a juried exhibit of metal and glass sculptures, acrylics, ceramics and wood carvings, wall décor, clothing, jewelry and more. Thousands of handcrafted treasures and gifts await shoppers looking for unique items and those that appreciate supporting local artists. Keeping in theme with our focus on unique art, educational activities with a creative artistic twist are provided by Arts for Learning, a San Diego tradition for over 50 years. Kids love to learn when it involves the classic elements of Art.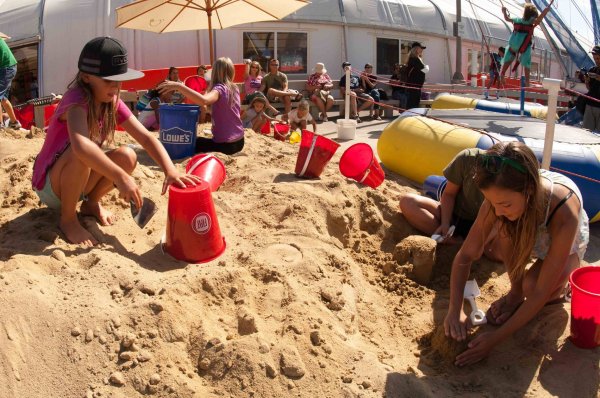 Families will also enjoy our giant sandbox with professional sculptors jumping in and teaching children how to build sandcastles. Rides include Bubble Fun & a Bouncing mini Bunji jumper. Tickets will be available at the gates but quicker and easier access is available for those interested in purchasing tickets online.
All of our digital tickets and special offers provide savings over day-of purchases. We encourage everyone to take advantage of our partnership with Purple Pass and get the ticket or VIP Pass you need to skip the lines. Look for discounts on Kids & Senior tickets and info on our deals for the Military and First Responders on our website. We occasionally post promo codes for adult tickets for our followers on our Social Media pages. Funds raised support the arts in a myriad of ways and our charitable partners in 2017 are Arts for Learning, San Diego School of Creative and Performing Arts, It's All about the Kids Foundation and the nearby Maritime Museum kids' educational programs.
Don't miss the spectacle of 300 tons of sand on the Broadway Pier, on San Diego's Big Bay It's been called the most creative atmosphere in the world. There's nothing else like it anywhere.

Charities
Arts for Learning San Diego
San Diego School of Creative and Performing Arts
It's All About the Kids Foundation
Maritime Museum kids' educational programs
Band Line-up
San Diego Favorites:
Suspicious Minds (Elvis Tribute)
Private Domain (Classic Rock)
The Surf Birdz (Beach Boys/Surf Music)
Journeymen (A Tribute to Journey)
Raney/Evans/Raney and Butler (Classic Rock and Blues)
plus Piano Rock w/ Doug Allen & Music of the 50's and 60's with his The Mar Del Boys
Food Trucks
Born In Brooklyn - Knish Sandwiches, Sausages & Heros
Chips Beach Eatz - Tacos, Kahlua Pork, Ceviche & Fries
Cousins Maine Lobster, Maine Lobster, Shrimp Tacos & Tots
God Save The Cuisine - Fish & Chips, Burgers & Chicken
Matheny's Wagon Works - Grilled Sausage Sandwiches
Simply Fresh - Appetizers, Sandwiches & Wraps
Super Q - Bbq Pork, Chicken & Texas Brisket Sandwiches W/ Mac & Cheese
Sushi Uno - San Diego's Only Fresh Fusion Sushi Food Truck
PLUS
Gelato Paradiso
Kettle Masters Kettle Corn
Kuhi Kuhi Shave Ice
Maui Wowi Hawaiian Smoothies