Top 15 Email Marketing Integrations in 2020 (Includes Pricing Plans)
Email marketing is one of the most powerful tools you can use for your business. Finding the right email marketing integration that works for your team is the step in the right direction to fully automate your marketing process.


1. Mailchimp
Mailchimp acts as an all-in-one marketing platform, with email marketing ads, landing page, and CRM tools to help grow your business.
Not only is it an email marketing platform but you can also promote your business across social platforms, traditional mail, and more, all from a single software.
There are 300 app integrations, it's industry compliant, and it has built-in security for all your data.
2. Constant Contact
In addition to email, Constant Contact allows you to have a website builder to create and publish a website in just minutes without any coding skills required.
You can set up Facebook and Instagram ads and then keep your audience engaged with email marketing automation.
Convert website visitors form landing pages and then use e-commerce tools, such as abandoned cart reminders, to help boost sales.
Mailchimp vs Constant Contact
Check out our comparison blog between these two popular
email softwares. We will review both and determine which one
is the best for you!
3. Emma
With Emma, you can organize email across multiple locations.
The marketing automation features allow you to send the right email at every step of your customer's buyer journey.
You can trigger targeted messages based on subscriber activity, create workflows and other follow up emails.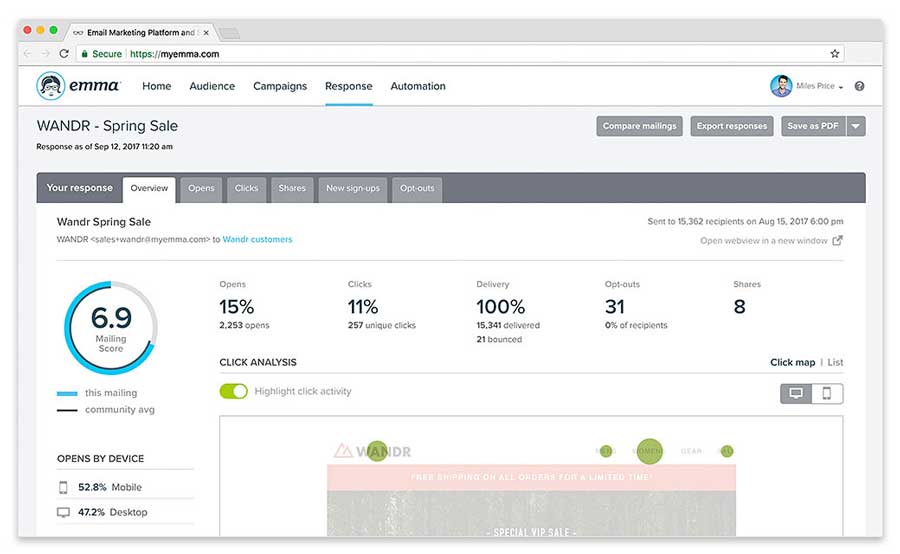 With the platform's branding logic, you know whether someone opens an email or clicks a link. The dynamic content lets you send personalized emails for every subscriber that enters your system.
Pro $89 / Month
+Plus $159 / Month
Emma HQ $229 / Month
4. Infusionsoft by Keap
Customers say that Infusionsoft makes it easier to track and follow up with leads. The platform can handle the entire e-commerce workflow, including email marketing.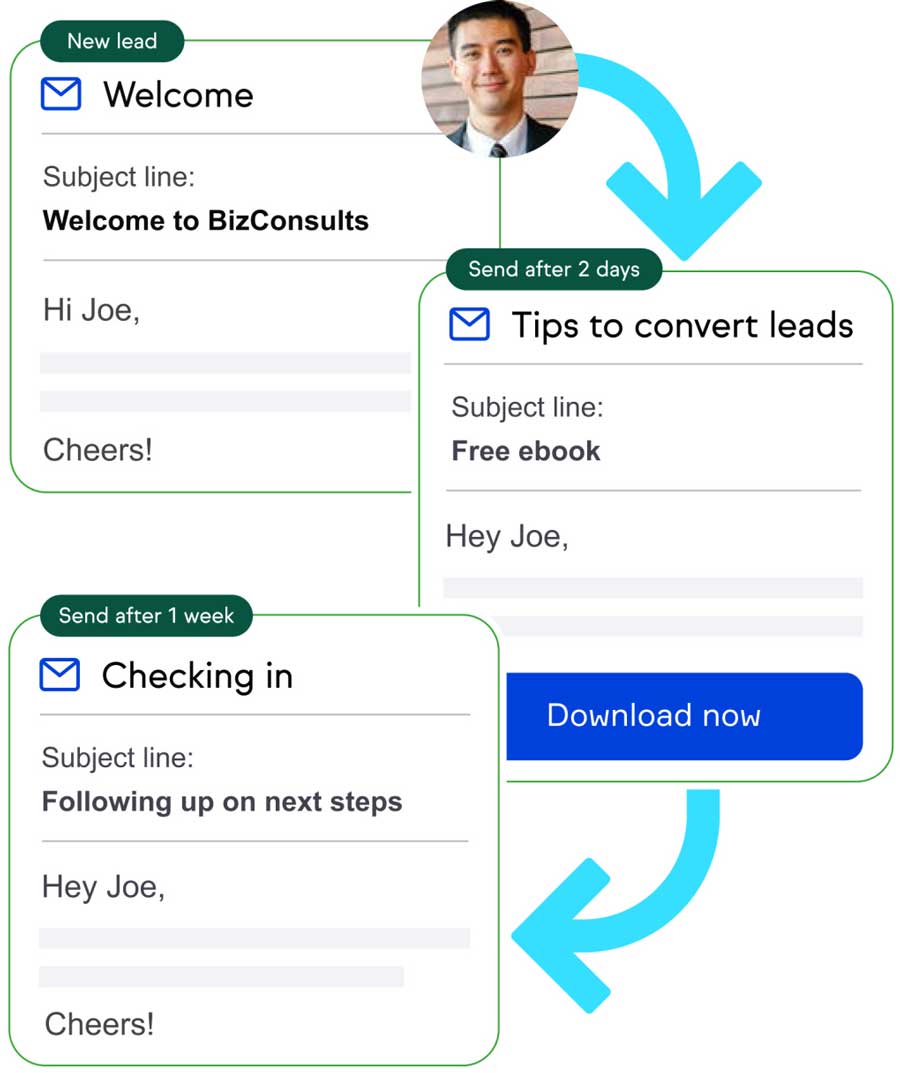 Start with an e-commerce webpage and then craft your marketing message through email. There is no need to pay for another landing page tool again.
Keap Grow $49 / Month
Keap Pro $99 / Month
InfusionSoft $199 / Month
5. AWeber
AWeber has simple yet powerful features, and it's affordable for email marketers. Design your newsletters with the drag-and-drop editor or HTML templates.
The Smart Designer will automatically build a branded email template for you and add it to the account. You can also build email automation flows using the drag-and-drop editor.
Analyze and improve your emails with email split testing and other helpful data.


Pricing Plan
Free Trial
Up to 500 subscribers. $19/month.
501–2,500 Subscribers. $29/month.
2,501–5,000 Subscribers. $49/month.
5,001-10,000 Subscribers. $69/month.
10,001–25,000 Subscribers. $149/month.
25,001+ Subscriber custom plan


6. ActiveDEMAND
With ActiveDEMAND, you can cancel your existing call tracking, email marketing, landing page, reporting, and tracking software and just start marketing.
There are plenty of different marketing automation features in the platform, including A.I.-driven predictive email send times, email autoresponders, newsletter campaigns, exit intent pop ups, and phone call transcription to make email marketing much easier and more!
Call Tracker - Free plan
Email Marketer $15 / Month
Small Business Marketer $69 / Month
Corporate Marketer $199 / Month
7. Benchmark
With Benchmark, you get simple email marketing with drag-and-drop features, live editing, and responsive emails.
If you don't have Photoshop, you can edit images right in the email editor and add effects.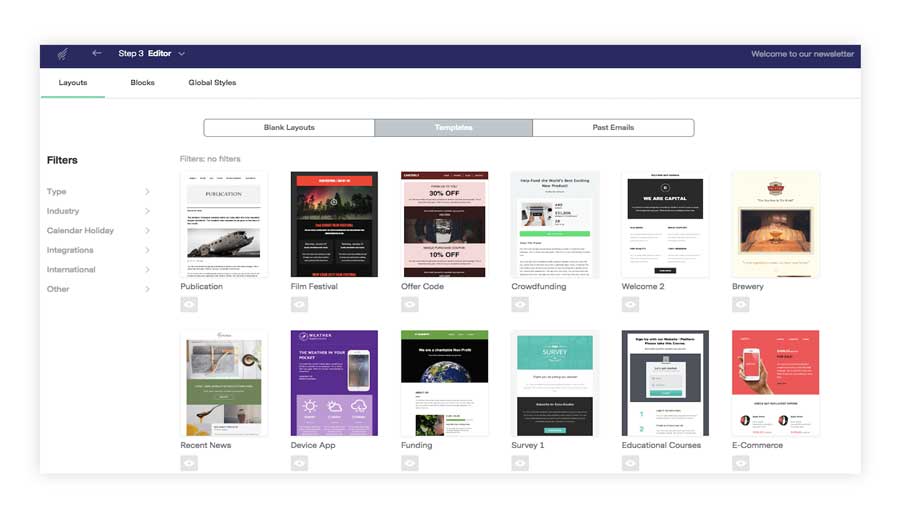 There are templates for every occasion to make email designing even easier. If you want to build your emails from scratch, you can use the HTML editor.


Monthly Pricing Plan
Free starter plan
Pro starting at $13.99 / Month (calculate your price here)


8. Campaign Monitor
Campaign Monitor gives you what you need to create beautifully designed and professional email campaigns to grow your business.
Choose from hundreds of templates to put your emails together in just moments. Use detailed lists and smart segments to instantly get more engagement and create more value for your customers.
Basic $9/month
Unlimited $29/month
Premier $149/month
9. Elastic Email
Elastic Email has the most cost-effective email delivery engine. You can easily connect and send emails via HTTP API or STMTP relay and send millions of emails per month on the ultra fast global infrastructure.
In addition to the email delivery engine, you get powerful email marketing tools to help grow the business.


Unlimited $9 / Month
Unlimited Pro $29 / Month
10. FlexMail
FlexMail helps you get the maximum impact for your customers. The team is constantly working on the existing features and creating new tools that make it easy to simplify your marketing efforts.
Create welcome messages, follow-up workflows, event reminders, reoccurring emails, custom workflows and more.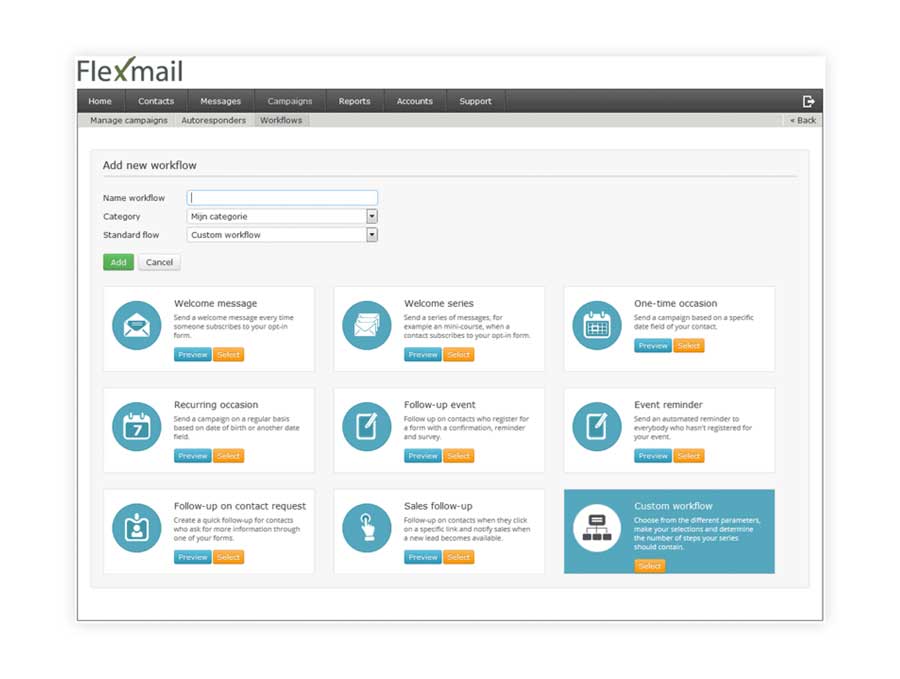 The focus is flexibility and usability. Set up hyper personalized campaigns for every audience and never have to send bulk emails again. They offer a 30 day free trial to get started.
11. Hello Dialog
Hello Dialog helps you get more out of your existing relations with one of the best email editors on the market. With the marketing automation tool tailored to your company, you can get support for all your automation questions.
It's easy to create beautiful emails with no technical or coding knowledge.
12. Hubspot
With Hubspot, you don't have to wait for any designers or IT staff in order to create, optimize, and personalize your marketing emails.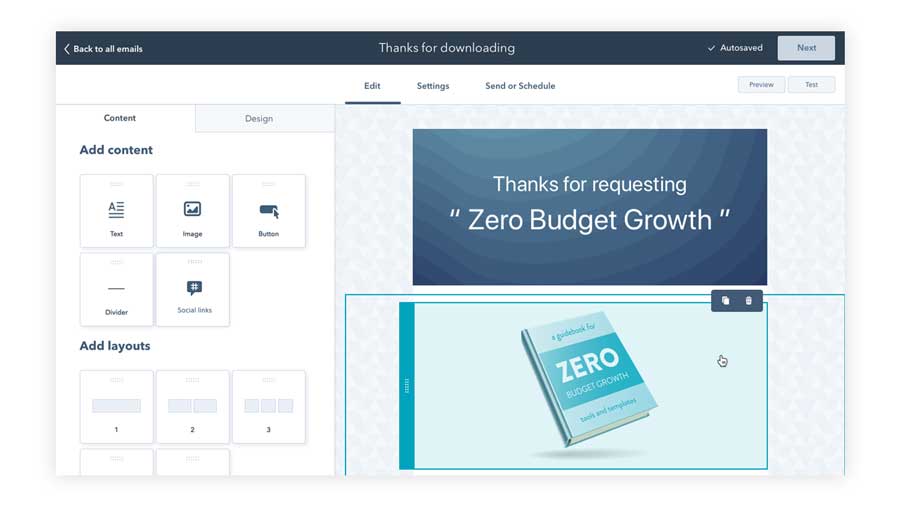 Chose a goal-based email template or dozens of other templates in the marketplace free or ones you can purchase. Use A/B testing and analytics to make an impact and dive deeper into your data with each email you send.


Starter $50 / Month
Professional $800 / Month
Enterprise $3,200 / Month
13. MailUP
MailUpis a simple and scalable solution to design, send, and automate your emails and marketing campaigns through SMS and messaging apps.
You get multiple work areas in a single platform. Create different areas for customers, products, or the market. You will also be able to integrate your system with the MailUp platform easily and quickly.
Click here for their complete lists of pricing plans.
14. Robly
With the Open Gen technology, you get 50% more opens since it re-sends your campaign with different subject lines. You can grow your list by 5x when you replace the traditional sign-up widget with the exit intent pop up.
You get all the features you want without additional costs.


0 - 500 contacts $15 / Month
501 - 2.5k contacts $29 / Month
2.5K - 5K contacts $49 / Month
Other custom plans available
15. Sendinblue
Sendinblue helps grow your business the way you want, whether you are starting out or looking for new opportunities.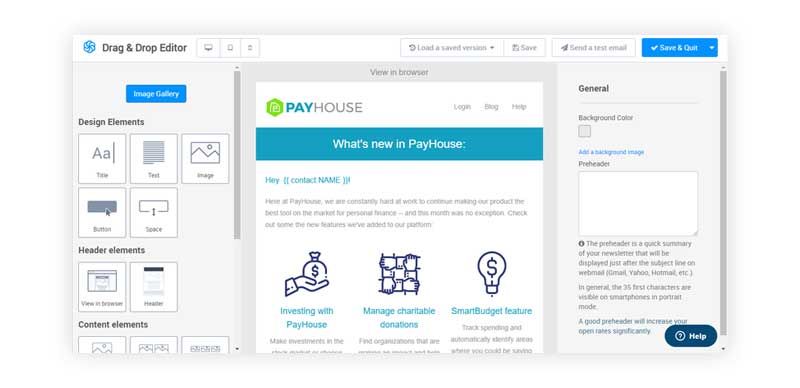 Get the tools a big company uses without an enterprise price tag. The email marketing platform has a strong focus on privacy and security so you don't have to worry about regulations and rules.


Starter Free Plan
Lite $25 / Month
Essentail $39 / Month
Premium $66 / Month
Enterprise - request a custom quote