Purplepass Vs. TicketSpice: the Best Event Ticketing Software of 2022
Whether you're managing school events or handling digital event registration, finding the best ticketing software can make a world of difference. When you are in the market for a new ticketing software, both Purplepass and TicketSpice have plenty to offer.
Below, we've compiled a list of the following features for comparison before choosing the best ticketing software for you and your organization's needs:


Below, we've highlighted some of the main features in each of the categories; you can learn more about each software by visiting their website.
A discount for nonprofits and schools
Purplepass offers a ticket discount to
educational programs and nonprofits.
Pricing and Payment
Pricing and accepted payment methods are some of the most important features to keep in mind whenever you are searching for a new ticketing solution.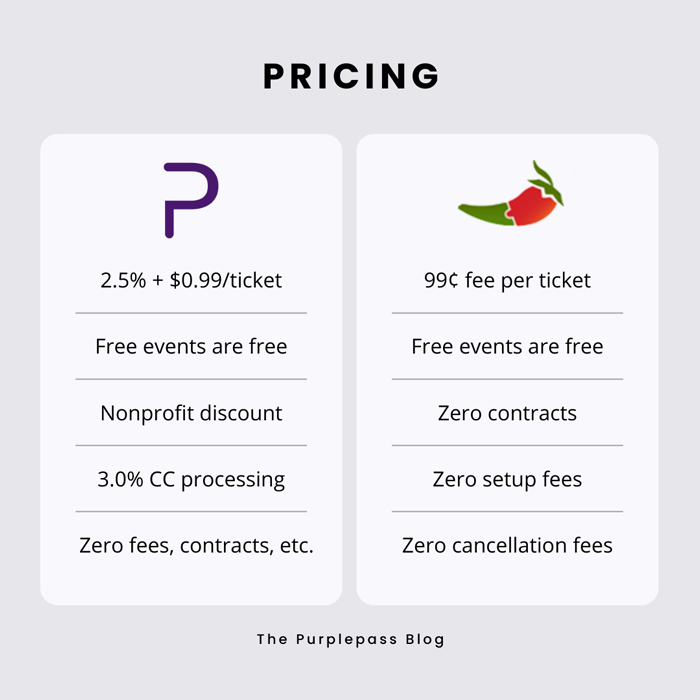 In terms of pricing, both Purplepass and TicketSpice are quite similar. However, TicketSpice's credit card fees average approximately 2.99%, as opposed to 2.5% with Purplepass.
Promoter Resources
If you're just getting started with event ticketing software or if you enjoy a sense of community from your service providers, comparing promoter resources for both Purplepass and TicketSpice can come in handy when selecting the ticketing solution that is right for you.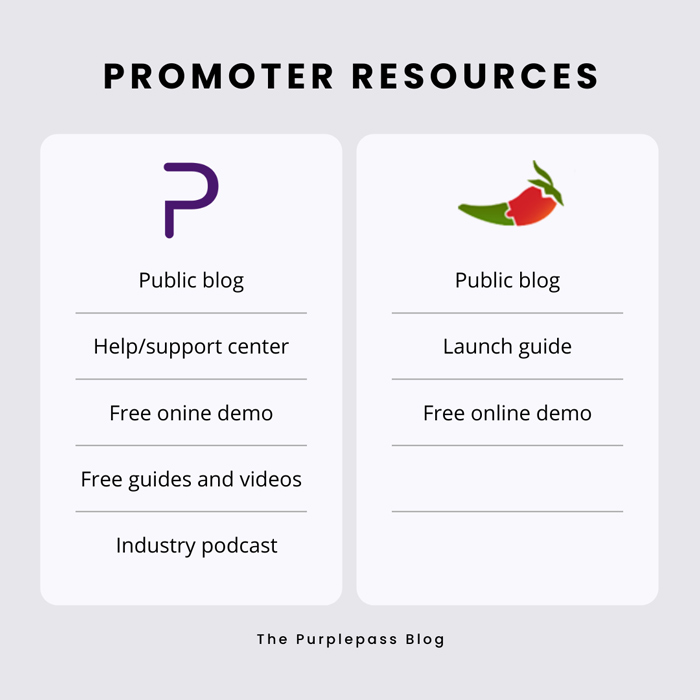 Customer Service
Customer service matters and goes a long way, whether you are a customer purchasing a product at a local store or looking for more information and guidance from a service provider online.
Purplepass and TicketSpice currently offer the following regarding customer service: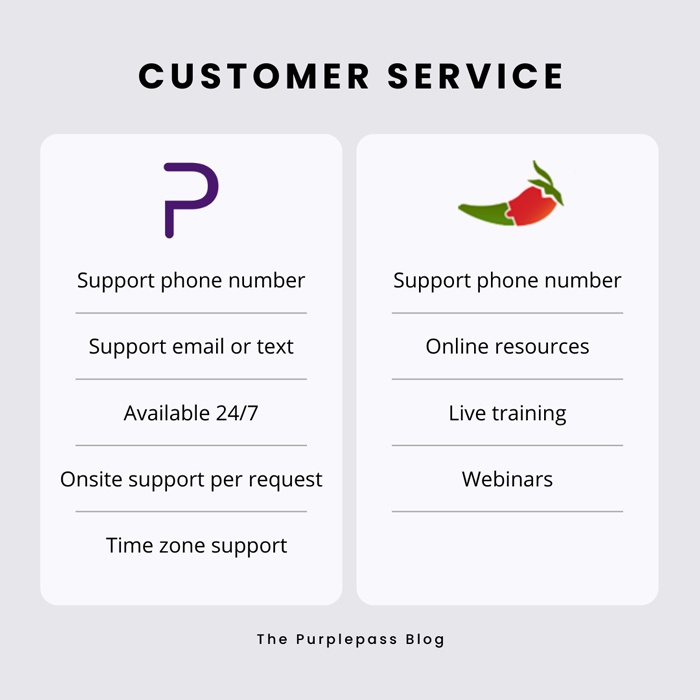 Event Pages and Promotion
Even after you have created an event page for an upcoming event, you are hosting or managing, you will need ways of promoting the event itself to prospective attendees.
The type of event pages and the type of event promotions you can create with both Purplepass and TicketSpice may sway you towards one or the other once you know exactly what it is you need.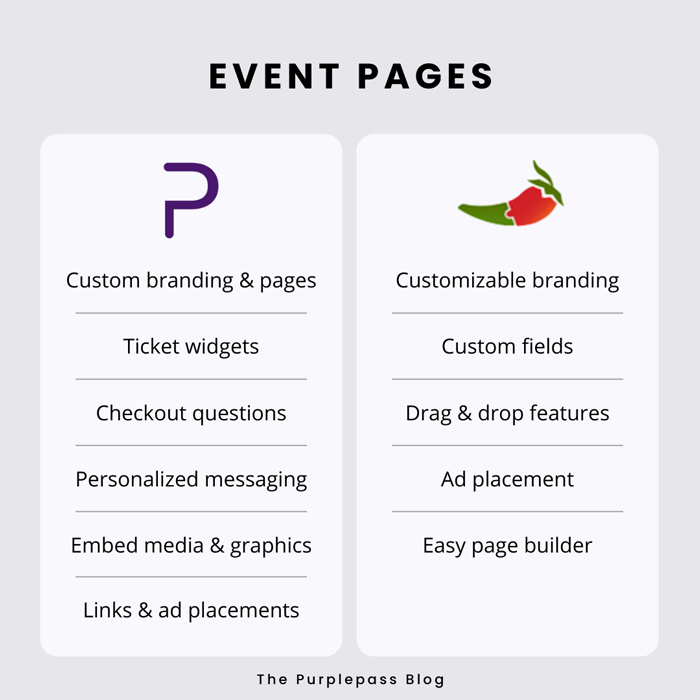 Selling Tickets
Before you plan an upcoming event of any kind or size, you will need to consider how you intend to sell tickets for the event and with what methods.
Both Purplepass and TicketSpice offer many methods and delivery options that may work for you.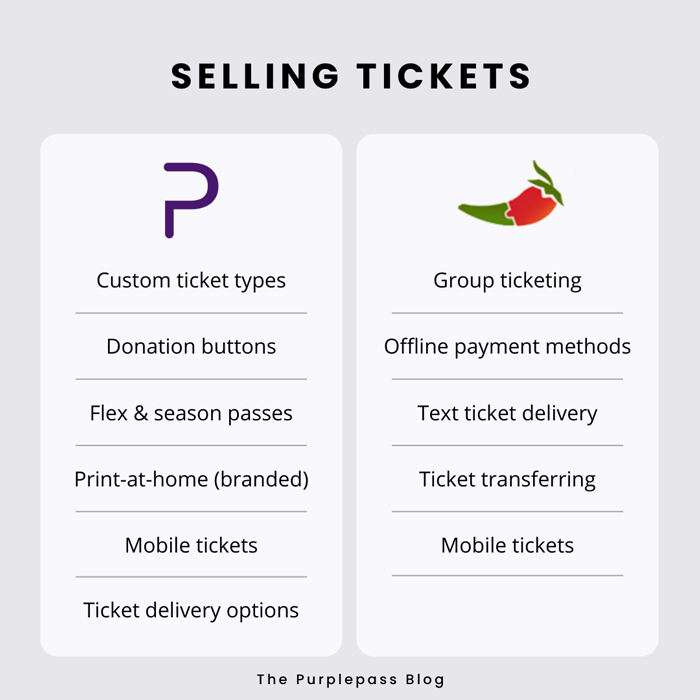 Promoter Dashboard
If having an all-in-one working dashboard is something you are looking for with a ticketing solution, both Purplepass and TicketSpice deliver.
However, before choosing a ticketing solution that is truly right for you, compare the features that each offers with its promoter dashboard, such as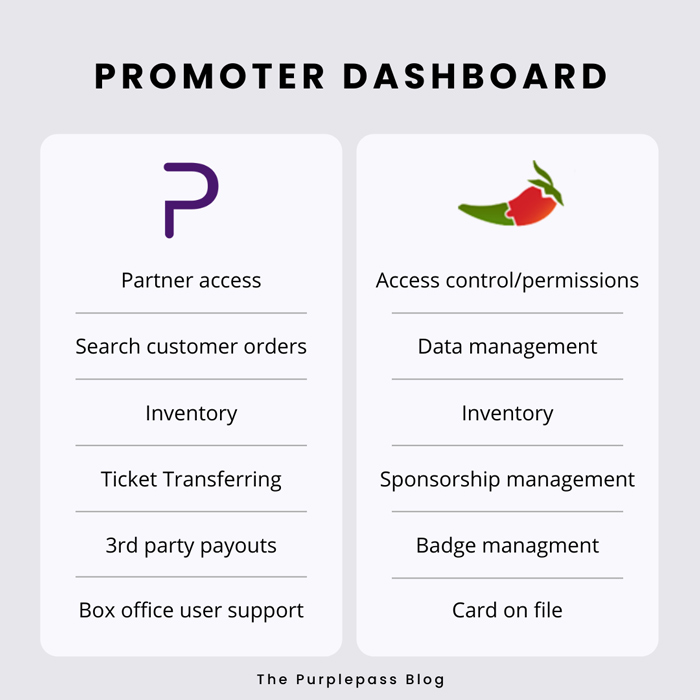 Reporting
Reporting and data collection matter, which is why it is essential to compare your options and the features of each ticketing service before selecting one that works for you.
Proper reporting and data collection can significantly change the way you implement and change your business for future events or registrations.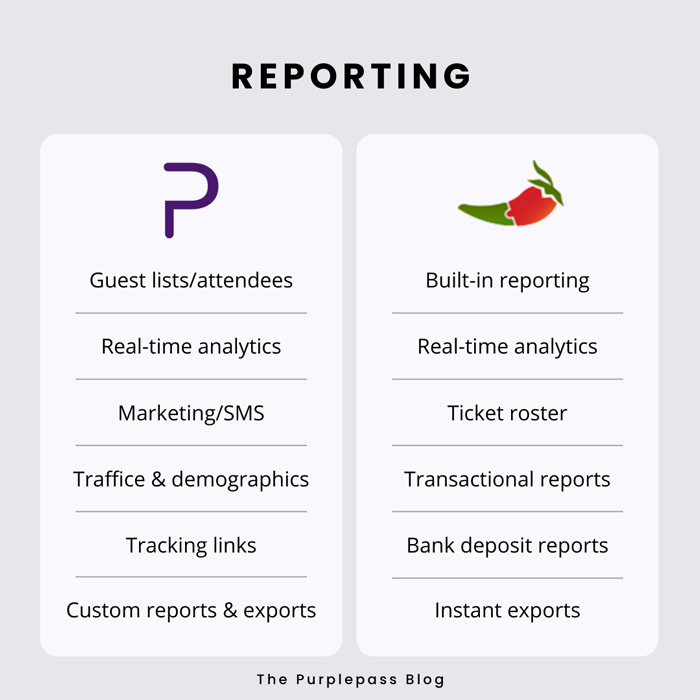 Day-Of Your Event
When the actual day for your event arrives, you may wonder what type of features the best ticketing solution will have for you to use.
With both Purplepass and TicketSpice, there are a few day-of your event features, including:
Integrations
Integrating events and digital promotions into other websites, applications, and with the use of a third party may be necessary for some companies and/or organizations.
If you are looking for a ticketing solution that welcomes integration, compare what Purplepass and TicketSpice offer.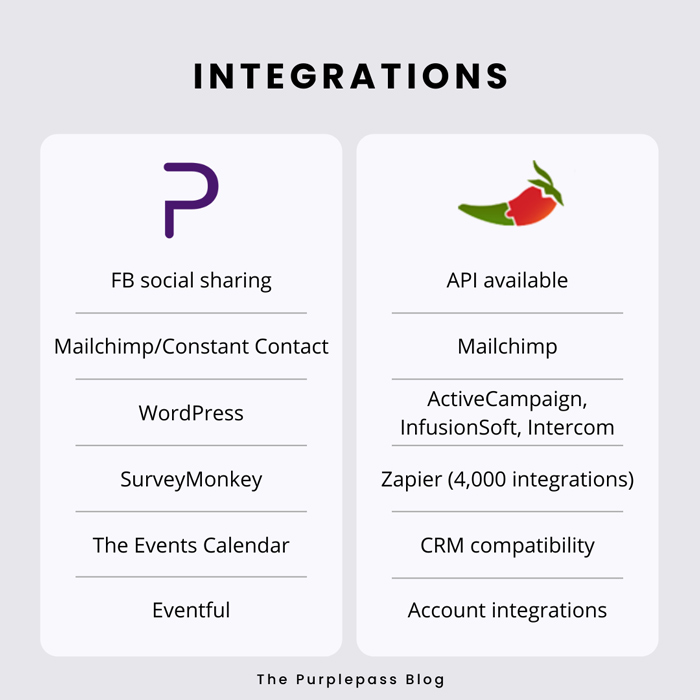 Assigned Seating
Does assigned seating matter to you and the type of events you are planning?
Are you looking for more control over the amount of seating you have available at any event, as well as assigned seating you already have in mind?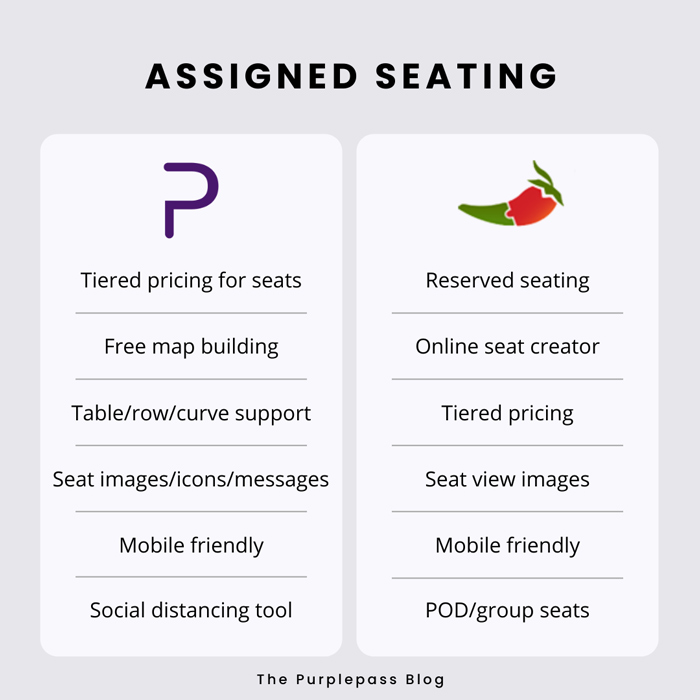 Coupon Codes & Discounts
If you host many events or if you are interested in generating interest in the events you are planning, you may think of offering coupon codes and discounts.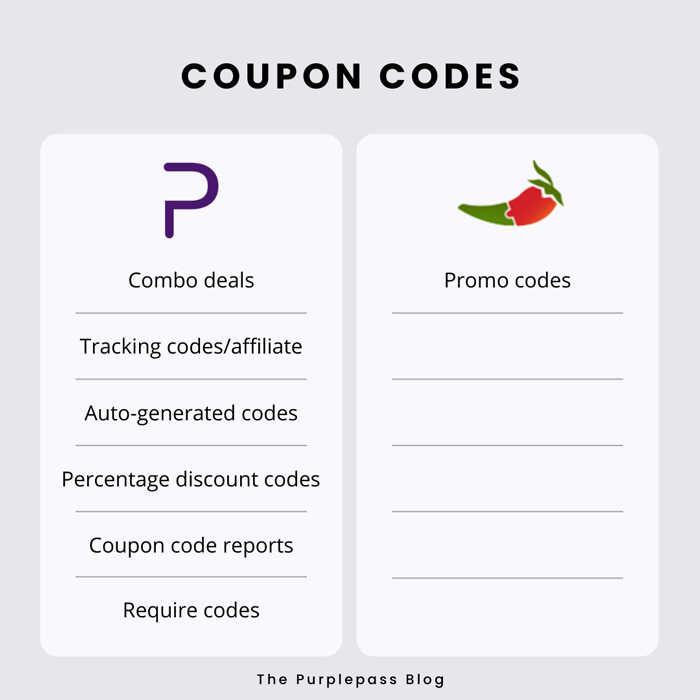 Printed Material
Besides hosting virtual events and registration sections on your website or on the website of your organization, you may also be interested in printed material that is relevant to your event.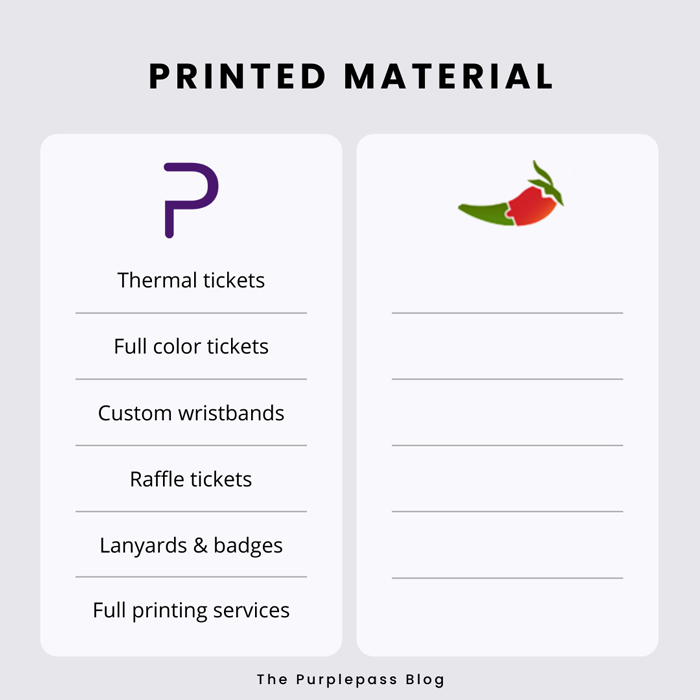 Want to learn more about Purplepass and how it can help you with all of your event registration and ticketing needs? Request a free demo or get in touch with a Purplepass representative today.
Start selling tickets in minutes!
Create an account, upload event details,
and start selling using Purplepass.