Advice for Planning an Outdoor Theatre Event
Summer is around the corner!
Why not take advantage of the outdoors by planning an outdoor event!
A popular activity for the outdoors we see often is theater or performing arts productions.
Whatever you are planning, pay attention to some of the details we cover below to make sure everything is ready for the event date.
Flexible ticket packages and passes
Flex and season passes, group options,
VIP, senior discounts; you can create packages
that work for everyone.
Obtain the proper permits
As you know there is a permit for everything, and now that you are planning an outdoor venue, you are in an entirely different ball game.
Event planners who are coordinating outdoor events must first get the proper permits and paperwork before they can move forward with planning the event.

New permits that come with planning outdoors: (of course it depends on your location/state)
One Time Outdoor Entertainment Permit
Outdoor Amplified Sound Permit
Outdoor tent or structure permit
Food Truck Permit
Special Use Permit


Well in advance of the projected event date, make sure you double check that all the permit and document submissions are handed in and approved.
Don't delegate this to someone else without confirming that everything is in order personally to prevent delays and problems.
Permits may take longer for busy parks or common grounds, so be sure to call and find out how long to allow for permission and permits to be granted.
Fence off the area and double up on security
If you've planned events before, admissions is a lot easier to control for indoor events verses outdoors.
That is why we recommend hiring double or triple that amount of security you would have at an event indoors to help manage parking, crowd control, multiple admission gates, exits etc.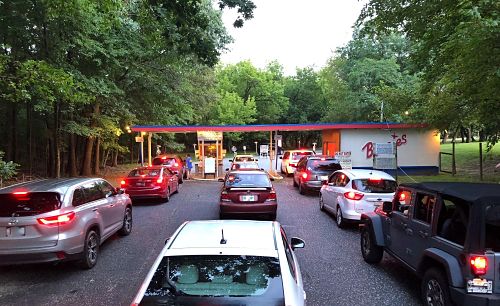 It is important to fence off the area where the theatre event is to be held to prevent people from entering without paying or engaging in unwanted activities nearby.
You should have the main entrance and exit points marked while everything else is fenced in and inclosed.
There are companies that rent fencing out for these types of occasions, but make sure to make you plan well in advance to secure the fencing you need.
Address all seating arrangements
Like most events, you will probably need to figure out what the seating arrangements will be.
Depending on the venue, they may already have bleachers in place to make life easier, open grass areas, or a set-up crew on site.
In those cases, you may only need to rent a minimal amount of chairs to be available for people with disabilities, the elderly, and small children needing equipment such as strollers.
Seating can be pre-planned by letting the public know to provide their own seats or towels to sit on in advance depending on the type of performance and other factors.
If the outdoor theatre production is similar to a movie viewing, you can even allow people to sit in their cars and watch like a drive-in.
Plan for additional entertainment and vendors
In addition to the main event, you should also consider adding musical acts, comedy, or special guest speakers to keep people engaged in between acts or during intermission.
Most people enjoy outdoor vendors because they can walk around and aren't confined to specific areas.
Consider having vendors attend and allow the guests to browse their selection of food, clothing, and other merchandise throughout breaks.
Additional ideas to host at your event:
Food Trucks
Large Games
Merchandise Stands
Face Painting
Kid Play Areas
Carefully consider all outdoor equipment needed
Like I said, outdoor venues require a little more work depending on the venue which leads to different types of equipment that is needed. Some of the most common equipment includes a PA system, lighting, and registration gear.
Other equipment to consider:
Power/extension cords
Back-up generators or a power source
Ample lighting
Wireless connectivity/ WIFI / cloud-based services
All-weather equipment
On-site storage
Plan to have all of this equipment in place and have it tested several times to make sure everything is in working order in the days before and the day of the event.
Onsite weather and storage is crucial to protect against inclement weather in the area.
Designating a technical crew and a place of storage will ensure a smoother event.
Pay special attention to the way that the equipment is stored before the event. Ensure everything is covered and protected, clean, stored properly and undamaged in advance to prevent any problems the day of.
Start selling tickets today
It only takes a few minutes to create an
account, publish your event and start selling tickets!
Event planners know that hosting events, especially those held outdoors such as a theatre presentation must be coordinated and organized with attention to detail. Use this helpful advice to make the process go smoothly and prevent issues.