A Better Alternative to Ticketleap | Purplepass
Do you need help deciding on your digital ticketing and event management solution between Purplepass and TicketLeap? This detailed comparison highlights the features of both platforms, their strengths, and their weaknesses.

1. Ticketing and Registration
Both Purplepass and TicketLeap have zero contracts and no sign-up and onsite sales fees.
Ticketleap - $1.00 + 2.0%/ticket
Tickets: Flat-rate fee of $0.25 (also covers credit card processing costs) for passes sold at $5 or below. For tickets priced above $5, they charge $1.00 + 2.0%/ticket with an option of transferring the costs to your buyers.

Credit card processing: Flat-rate fee of $3% per ticket (4% for Canadian accounts). You can use yours or TicketLeap Payments. If you use Authorize.net or Paypal, there are no credit card fees.

Physical tickets: Does not offer physical ticketing services.

Non-profit: No discounts for non-profit events

Free events: Free ticketing for free events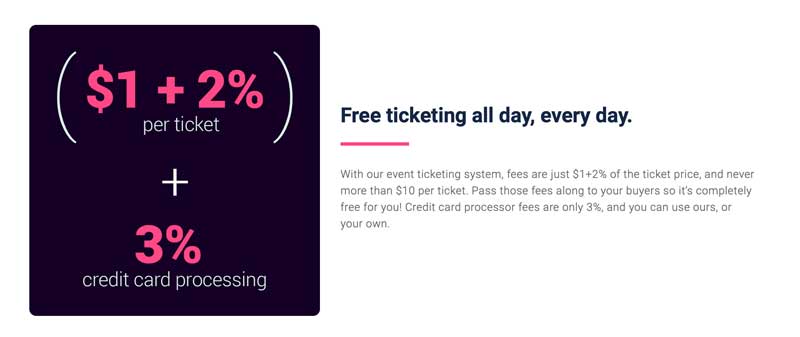 Purplepass - $0.99 + 2.5%/ticket
Tickets: Flat rate of $0.99 + 2.5% for profit-making events. This fee is inclusive of map building, box office services, and client support costs.

Credit card processing: Online is 3.0% per transaction. Box office is 2.5% + 0.25/transaction.

Physical tickets: Print and deliver ticket stocks on demand. Event organizers can also pre-order physical passes for at-the-gate sales. Prices vary depending on the type of ticket or wristband.

Non-profit: Discounted price of 2.0%+$0.99 for non-profit events.

Free events: No charges

Seating charts: No extra charges for map building. Ticket transfer and/or seat changes are free.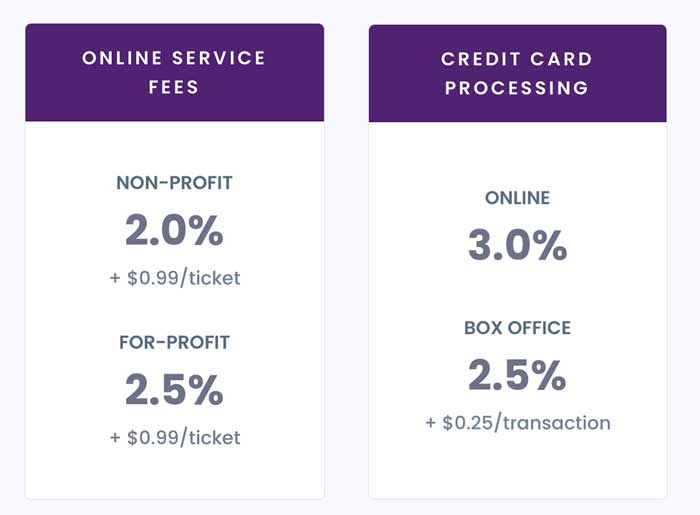 2. Customer Care Support
Ticketleap
Ticketleap offers client support through emails and phone calls for free, just like Purplepass. However, Purplepass has a few extra features.
Purplepass offers holistic 24/7 client support
Purplepass not only support you and keep you abreast with everything concerning your event but also responds to your buyers' queries around the clock.
The help desk team is available via texts, phone calls, and emails.
Each user is assigned a client care representative to help with their account.
Team training and onboarding
Your representative can help walk you
through the system and get your event ready!

3. Nonprofit Discounts


Ticketleap - No nonprofit discounts
Unless the ticket is priced at less than $5, Ticketleap charges $1.00+2.0%/ticket for all events, including non-profit events. For free events, they have zero charges.
Ticketleap also supports the collection of donations alongside sales.
Purplepass - $0.99 + 2.0%/ticket
Ticket and manage free events at zero charges and help organizers collect donations in the sales process.
For nonprofit events, ticket at a discounted price of 2.0%+$0.99 per ticket. There is also no charge for COMP tickets.

4. Admin Access and Features
Organizers always want to be in charge and stay abreast of everything concerning their events, even when you've outsourced a third party to handle the ticketing and management.
Ticketleap features
Popular features include:
Personalized event page, manage, and edit it centrally
Custom checkout questionnaires
Coupon codes and tracking links
Customizable emails and verbiage
Build multiple ticket types
Password protected events
Create and assign multiple accounts to users based on roles
Reporting options and sales-alerts
Guest list management
Purplepass offers an extensive list of features
Besides the features mentioned above, Purplepass offers admins more control over events.


Analytics: The system also analyzes data to generate intuitive reports on ticket sales, revenue generated, guests' locations and attendance, and the ROI of social media campaigns.

Partner access: Clients can integrate third-party payouts and control users' access to specific functions like viewing and managing guest lists.

Custom packages: Besides custom ticket types, promoters can build season passes or flex passes for recurring events.

Live stream widget: Gives promoters the ability to stream from their website!

Marketing integrations: Facebook sharing, discover site integrations, and tracking codes.
Sell on your website: Ticket widgets make it easy to integrate the sales process.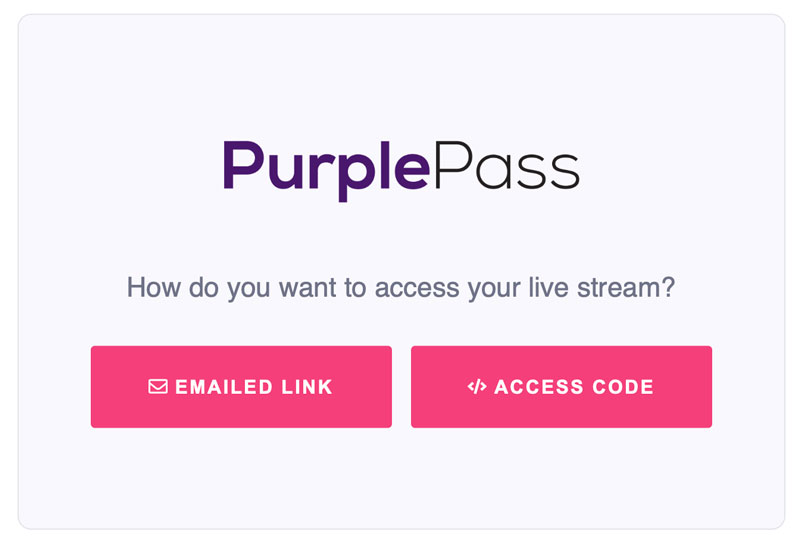 5. In-house Printing
Ticketleap
Ticketleap is a fully digital ticketing company. It does not offer in-house printing.
Purplepass
Purplepass prints ticket stock and other merchandise on demand.
Tickets: $0.10 for thermal tickets and $0.12 for full-color custom tickets.

Wristbands: We have five types of wristbands that you can use to complement or replace traditional paper tickets - Tyvek, poly sublimation, regular vinyl, heavy-duty vinyl, and custom full-color wristbands.
Personalized event printing
Create designs, order ticket stock,
custom posters, flyers, etc. for your event.

6. Assigned Seating
Both Purplepass and Ticketleap support tiered pricing for seats and allow buyers to choose their seats. However, Ticketleap does not allow replacement or transfer of seats which Purplepass does at no extra cost.
Here are other assigned seating features that are exclusive to Purplepass:
Stage customization: Color-code seats to enable buyers to skim through the map and identify specific sections and seat prices.

Full control over map building and management: Promoters can build their maps or customize the ones created for them by adding logos or personalized messages.

Detailed views for all stage sizes: Enable buyers to scan through large venues by integrating bird's eye overlays on their maps.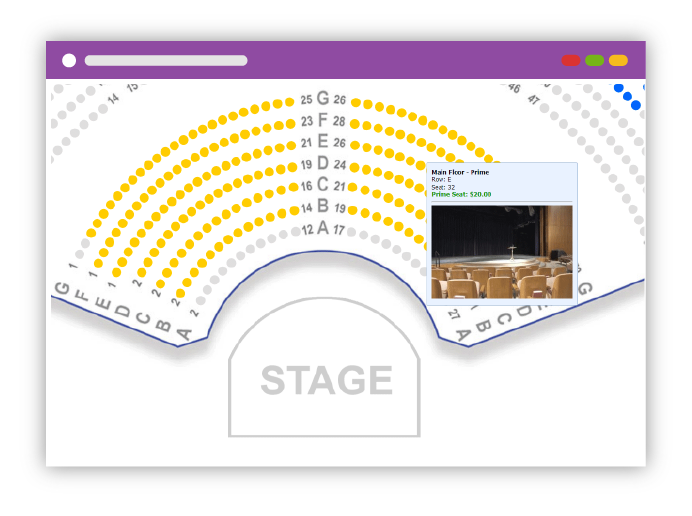 7. Equipment Rentals
Ticketleap
Ticketleap rents out ticket printers and credit card processors. They also have wireless ticket scanners for hire.


Purplepass
Purplepass rents out:
Wireless and USB scanners
Pro scanners
Receipt printers
Cash drawers
Boca and receipt printers

Mobile terminals and iPads
Start selling tickets in minutes!
Create an account, add your event details,
graphics, links and start selling.