8 Social Media Trends Predicted To Take Over In 2020
Nowadays, there's hardly anybody whose life is left untouched by social media. It has come to be an essential part of today's experiences whether we like it or not.
As the world continues to connect to social media, it's transforming into an immense importance for marketers and businesses for capturing leads.
According to recent research, around 2.9 billion people will link to social media platforms in 2020, and the number of social network users worldwide is rising rapidly.


Here is the bar chart regarding the growing users on social media platforms


Social media platforms have become a primary target for businesses and marketers in growing their business. So, there is bowelless competition on social platforms.
If you have a simple social media marketing plan, it can be extremely difficult for you to stand out amongst the thousands of other businesses.
Here is a glance of upcoming social media trends we can expect to see in 2020 that you should be aware of to stay on top.


#1 Influencer marketing will continue to be on the rise
Influencer marketing is also known as word-of-mouth or brand ambassador marketing. This is the strategy of using famous or well known users on social media to amplify your brand message while reaching a wider market.


(Stats from Digital Marketing Institute)
70% of teens trust influencers over celebrities
86% of women use social media for purchasing advice
49% of consumers depend on influencer recommendations


Influencer individuals may be well-known cricketers, celebrities or social leaders, but essentially, you want someone with a large niche following whoese willing to spread the message about your company or brand across their social channels in exchange for payment or other benefits.
The trick is finding the right set of influencers so you can truly get benefits from influencer collaboration.
When working with influencers, look at their niche, posts, and the type of people following them. Are their followers going to be interested in what you are selling?
Will they trust the review of the influencer based on the niche they are in?
#2 Shopping on social media
From the next year onwards, businesses are going to use social media platforms as their new digital retail shops.
It will soon be possible in 2020 to shop for products or services that you see on social media while surfing Instagram or Facebook.

This means you do not need to leave the social platform for purchasing items or services you see.
You can share credit card details and make a purchase - no more website. This kind of ease and speed to the consumers can cut nearly half of the selling funnel so be ready for it!
#3 Stories will be marketer's sweetheart
Almost all social media platforms like Instagram, Snapchat, Facebook and even YouTube has come out with their own stories format.
That's because stories provide a more realistic perspective to audiences as videos are often made on the spot, share a raw form of someone, and decrease bounce rates.
Because this stories stay up for a limited amount of time, advertisers can take advantage of these ads to beat the FOMO's fear of missing out with flash sales and limited offers that are usually searched by loyal users only.
We've seen a spike in the use of stories by marketers in the last year and by 2020, every brand should be capitalizing stories.
#4 More privacy and security
Information security and privacy are two issues that are always heard in the news for social platforms, such as the popular Tik Tok app.
The Government has also put emphasis on providing an encryption backdoor to these platforms. Facebook has been doing major data security changes and upgrades.
We've been seeing other security updates through popular applications such as LinkedIn and Instagram; as I'm sure you're aware.
Moreover, in 2020, the SSL certificate will be an inevitable requirement for any website security and data privacy.
#5 Augmented reality (AR) will play a bigger role
AR technology is evolving increasingly and adds a digital aspect to the reality we live in, especially at events. For an example of AR use, IKEA now offers customers the ability to see how their products look at home with their AR software.
In this kind of innovation, there are several possibilities – realtors may take potential owners on virtual tours with their houses, it allows them to switch paint colors, delete walls or move them to another location, etc.
Furthermore, makeup companies are encouraging their potential customers to check their goods on their lunch breaks or wherever they have a phone on social platforms. Crazy right?!
#6 Develop your own chatbots
Brands are expecting to build their own chatbots in 2020.
These chatbots will provide quick and efficient communication with consumers 24/7. Moreover, chatbots can also talk to several people while our existing customer service representatives are unable to do so at every hour.
You can incorporate the voice of your product in your chatbot to create the best consumer service online and personalize the shopping experience.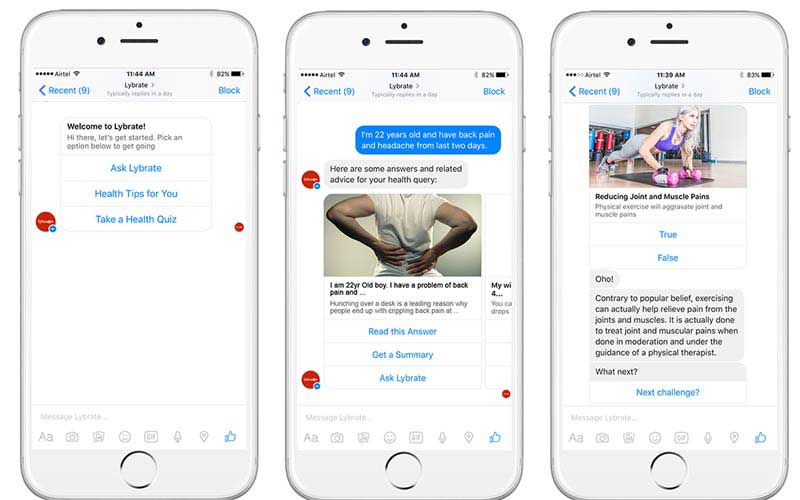 This is being used on different social platforms to help users out in the moment, and we can expect to see more use of chatbots on other social media apps in the years to come.
#7 Videos will be the trendiest content-type
Marketers have predicted that videos will be a cause of around 80% of web traffic.
Whether you make a short video such as a Tik Tok clip or a longer YouTube product review, the future of the social media content is Videos.
That's why stories, SnapChat, Tik Tok and IGTV have become so popular in the last year! It's time to add video clips in your content strategy if you're not actually making any.


(Stats from 99firms.com)
500 million users now use Instagram Stories every day
36% of businesses use Instagram Stories for product promotion
59% of brands link Instagram Stories to a shoppable page


Videos will reign soon on social media, and anyone who does not use them may face a difficult time in developing a content strategy.
#8 Growth of geo-fencing
Geo-fencing allows businesses to access a real-time target based on a user's location.
For example, a target area is defined within a mile of a restaurant. When their consumers leave their zone, they get a push notification, text message or another form of marketing communication.
Now, marketers have been using this tactic for a while.
However, recent stats show that consumers who open these messages are easily and more influenced as compared to broadcast messages making the use of geo-fencing predicted to increase in 2020.


To wrap things up
These are the trends in the social media world that are predicted to reign the year 2020 and beyond. Why not take advantage of these trends now and stay ahead in the competition.