8 Popular DIY Holiday Craft and Workshop Ideas
Hosting a workshop is a way to bring attention to a particular business, brand, cause, or charity organization. A workshop hosted during the holidays is a great way to bring others together while spreading the word about your cause and simultaneously spreading cheer. Whether you are looking for a way to connect with members of your local community or if you want to expand your company's own reach, consider hosting a holiday workshop this year.
From traditional in-person holiday workshops to hosting virtual or hybrid workshops, there are plenty of options to consider that can help you to reach your intended audience, online or off.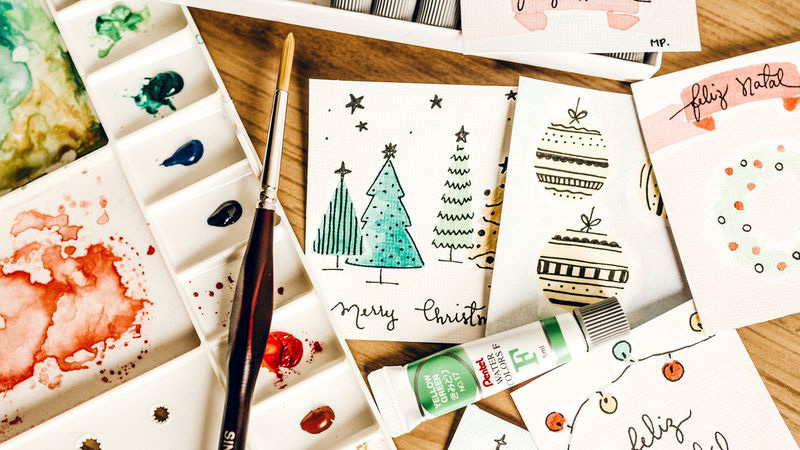 1. Holiday Cards
One of the most heartwarming ways to bring members of the community together over a holiday workshop is to create your very own holiday cards.
Hosting a holiday cards workshop will attract those who are creative in your community as well as those who are interested in giving back or embracing the holiday spirit. Showcasing various holiday card designs, incorporating mixed media, and helping others express themselves can provide great opportunities to connect with those around you.
2. Wreath Making
Another holiday-themed workshop that is extremely popular and likely to generate buzz is a wreath-making workshop.
Wreath-making can include using traditional wreath materials and holiday colors, or the use of modern fiber optics, LEDs, and modern strings. Wreath-making workshops provide an excellent opportunity to get a bit creative while ushering in the holiday season for the year.
3. Ornaments
If you just can't get enough of the holiday season, and you cannot wait for Christmastime to arrive, consider hosting your very own ornament-making or ornament-decorating holiday workshop. An ornament workshop typically consists of attendees decorating their very own ornaments after choosing a base ornament that resonates most with their own personal style or home decor.
Decorating ornaments does not require extensive skills or knowledge, making this the perfect holiday workshop idea if you want to expand your reach or if you are thinking of hosting a family-friendly workshop event.
4. Fall Decorations
Another creative workshop idea to help locals get in the mood for the upcoming holiday season is to host a fall decorations workshop.
Creating fall decorations as a part of your workshop is a way to connect and communicate with those in your community without diving head-first into Christmastime goodies immediately. Because the fall is a desired time of year, hosting a fall-themed holiday workshop can result in more attendees and a higher turnout altogether, especially if you are hosting the workshop over the course of multiple days.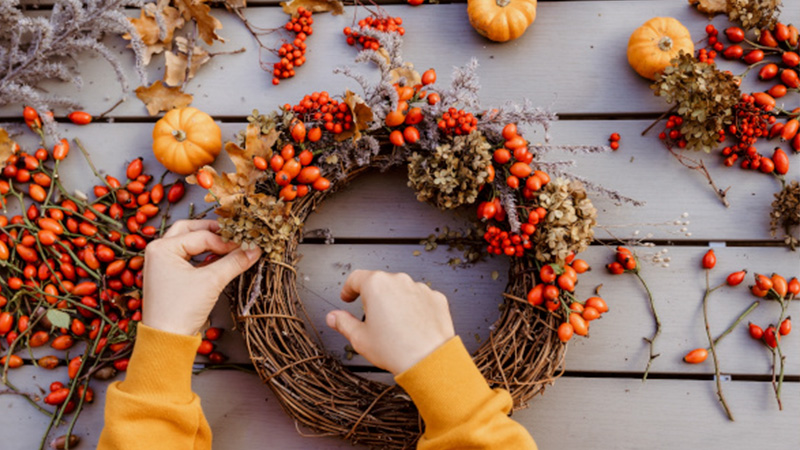 5. Paint and Sip (Fall Themed)
If you are still thinking along the lines of fall and want to incorporate autumn into your next holiday workshop, consider hosting a Paint and Sip experience that is fall-themed.
A paint-and-sip experience typically involves a class of anywhere between 10 and 25 attendees who are interested in learning to paint the same image as one another. An instructor or painter can then guide the class through each step of completing their painting while also enjoying a glass of wine (or any other cocktail you prefer to promote during the holidays).
You can also consider getting a bit creative with the types of drinks you offer, especially during a holiday-themed paint-and-sip event. Some drinks that may feel more appropriate during the holidays might include:
A hot toddy
Egg nog (with Brandy)
Hot Dulce de Leche
Pumpkin spice coffees/lattes/cocktails
Ginger-based drinks
Shirley Temples
6. Stockings
Do you want to host a holiday workshop that involves gift-giving and the celebration of Christmas itself? A stocking-making holiday workshop is a great way to attract those who are creative to get together and collaborate with one another.
A stockings' workshop can provide attendees with an opportunity to create, decorate, or even sew their very own stockings, depending on the type of workshop you intend to host. Creating a unique stocking can unlock creativity and help others to look forward to the upcoming holiday season.
You can also include candies, goodies, and handmade items to share with all of your workshop attendees to place in their stockings once the workshop is complete.
7. Host a Baking or Cooking Class
As the holiday season arrives, cooking and baking wizards delight and rejoice, as the season is enveloped in delicious goodies and tasty treats. For those who want to connect with the bakers and the cooks of their local community, consider hosting a baking or cooking class as a holiday workshop.
Hosting a holiday-themed baking or cooking class is not only a way to spread the word about the opportunity to learn, but it is also a way to bring others together with the power of food.
Hosting a baking or cooking class provides an opportunity to teach new skills to attendees while also allowing those who attend to learn additional techniques and skills from others who live, bake, and cook in their own town.
8. Gift Wrapping Workshop
Have you ever wanted to teach others how to wrap gifts professionally and quickly?
Do you want to offer gift-wrapping services to other members of your community that may be in need during the holidays? If so, consider hosting a gift-wrapping workshop.
Gift-wrapping workshops can consist of volunteers who are willing to help others with their gift-wrapping needs, or they can include live tutorials for attendees to learn how to improve their own gift-wrapping skills and abilities.
Workshops provide the perfect opportunity to teach others about a particular skill, product, idea, or even a charity organization you represent. When you want to draw attention to a particular case, organization, or business, hosting a workshop during the holidays can allow you to do so in a fun, entertaining, and community-centric way.