6 Easy Ways to Measure Your Event Marketing Conversions
There is no sense marketing events in the same manner over and over if you are unsure as to whether your marketing efforts are actually making the intended impact you want.
However, most event planners do not have the tools, knowledge or possibly even the time necessary to gauge event marketing success or failure.
So how can you measure the success of your event marketing campaign?
1. Start with goals (realistic, achievable ones)
Your event marketing campaign should have clearly defined goals. Set a goal(s) to strive toward and your marketing team will have a well-defined outcome to work toward achieving them.
The goal(s) you set should be realistic.
If the goal is not achievable, it will simply make your marketing team feel as though the challenge is too daunting or that they've failed.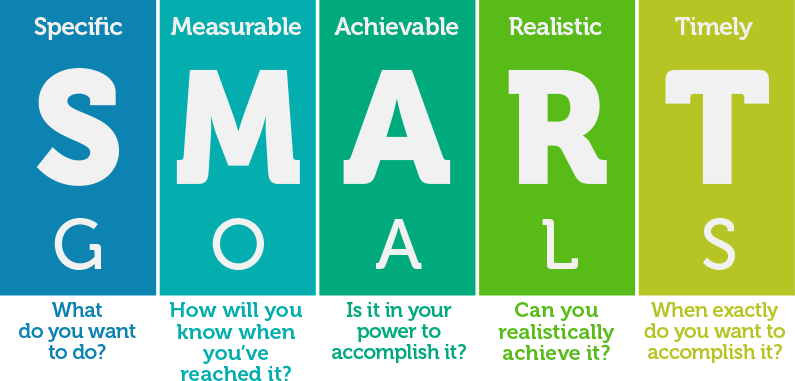 Examples of event marketing goals to start with:
Building brand awareness and expand event name
Drive more in-sales with direct marketing
Boost engagement online and focus on the customer
Establish your brand as a leader of it's industry
Form partnerships and work with influencers during promo period
Form a partnership to build lead generation
2. Establish a timeline for measuring your campaign
Set time parameters to measure the success or failure of your event marketing campaign. This way, you will be able to determine if your marketing efforts are actually working.
As an example, it might be prudent to measure success in the period between when tickets go live to the point at which they are no longer sold.
Other event planners will determine it is better to gauge results across a period of two weeks, every month or another specific timeframe.
Compare the results of your event marketing campaign in this established timeframe to those of the next segmented period of time or even your next event and you will have insight as to whether your marketing efforts are actually working.
3. Establish tracking links
Creating tracking links lets you monitor where your online sales stem from.
This insight helps you understand which online marketing efforts are generating meaningful results and which are failures.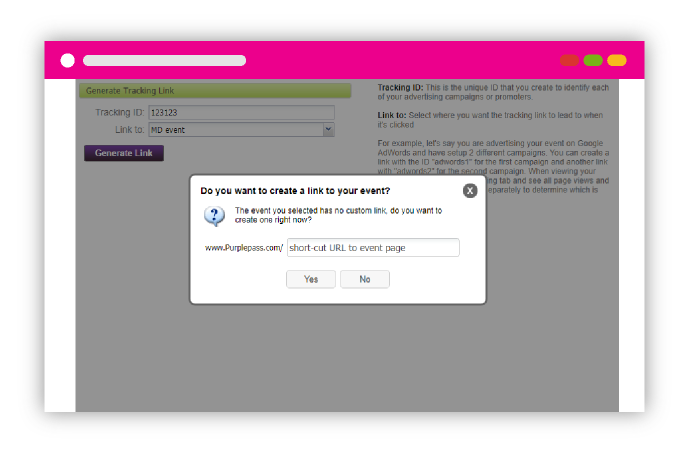 Once you know where your sales are sourced from, you will be able to better focus your marketing efforts to obtain the intended results.
Create custom tracking links
Monitor traffic and understand where guests are coming
from by building custom traffic links with Purplepass.
4. Use automation
Software is now available that tracks just about every aspect of events including tickets sales.
Invest the little bit of time necessary to automate as much of your work as possible and you will spend less on employees, have that much more time available and enjoy important insight into the quantitative aspect of your event.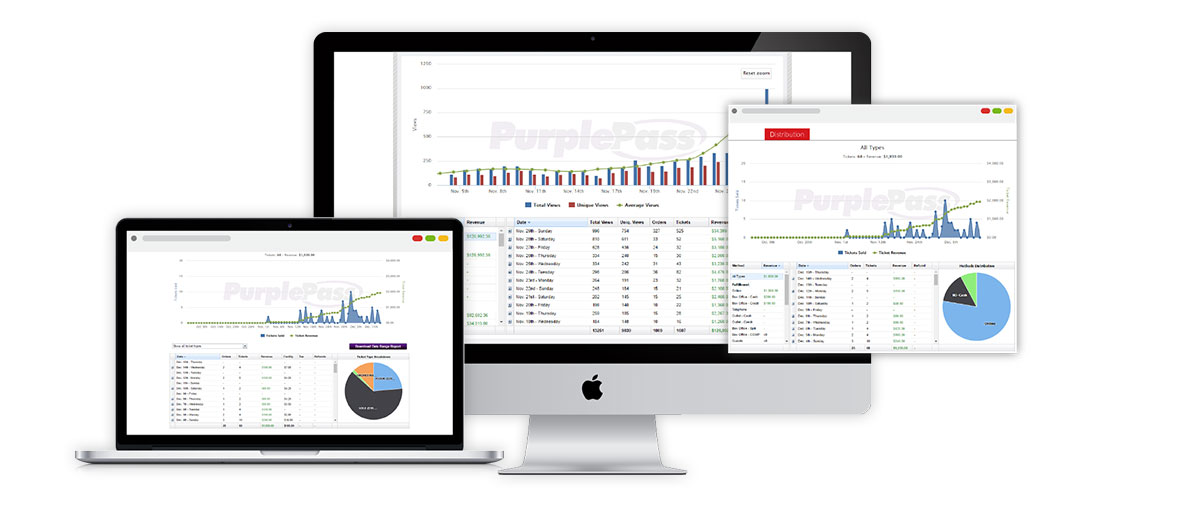 As an example, Purplepass' stats and reporting tools track information related to your events, run reports on your behalf and ultimately help you develop a truly comprehensive understanding of every aspect of the event.
Build custom reports, stats, alerts
It's easy to monitor your event's success with the
reports tool. View stats, get real-time sales alerts, marketing
reports and more!
5. Gauge the online traffic
Even if your sales are not sky-high, it is still sensible to measure the traffic level on your ticket pages, webpage and other components of your online footprint.
These traffic statistics will help you understand the interest level in your event.
Furthermore, you will have concrete numbers that show how many people visited your website compared to the number of people who actually purchased tickets.
This ratio is important as it is an indication of the quality (or lack) of your online content.
If you are disappointed in the percentage of people who proceed to purchase a ticket to your event after visiting your webpage, it is a clear sign your online content must be altered.
6. Measure social media traffic
Social media traffic has the potential to be just as important as your website's homepage traffic, ticket sales page traffic and other parts of your web presence.
It will be particularly interesting to determine how many people visit your Facebook, Twitter, LinkedIn and other social media platforms prior to purchasing a ticket or bouncing to another corner of the web. Check out this post on how to build and boost your following with a social media plan to help get you started!
If your social media traffic is lacking, it is time to make some changes.
Something as simple as posting engaging online content will boost your number of shares on these uber-important platforms, make your audience that much more engaged with the upcoming event and ultimately ramp up your event ticket sales.