5 Free Ways To Live Stream Your Event
Over the last several years, there have been a variety of new tools and options created for those who wish to gain visibility and improve the overall interest in their brand. Perhaps the most effective option to hit the market recently has been live streaming; podcasts, webinars, etc.
Anyone can use a live stream feature or service, most of the time it is FREE, and it is especially beneficial for companies and organizations who wish to highlight an event and reach a larger audience or marketplace.
Here are 5 free services you can use to live stream your next event.


#1 Facebook Live
The most well-known and widely used of all the streaming services is Facebook Live, which allows you to connect with your followers and give them a bird's-eye view of the event without actually attending. It is beneficial for people who, for one reason or another, are not able to attend.
Facebook Live is simple to use and even sends out a real-time notification to let everyone know when to tune into your live feed. All you need to take part is an account and a cell phone or other mobile device, which most people already have.Here is how you go live using your Facebook account:
1. Login to your account using your mobile device and go to your news feed. Next to the search icon, you will see a camera icon. This opens your camera on your phone and gives Facebook permission to use your camera and microphone for going live.



2. After you give Facebook access to your camera, you can switch to live mode at the bottom of your camera screen.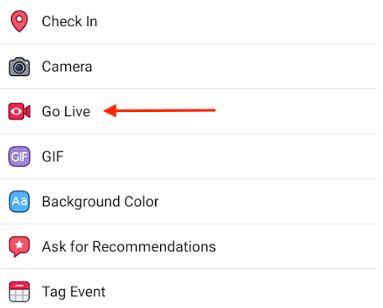 3. Select live, don't worry you aren't going live yet, and make sure your settings at the top left are set to "public" so you can reach your audience on Facebook.
Other settings include, "Friends", "Friends Except …" , "Specific Friends" and "Only Me".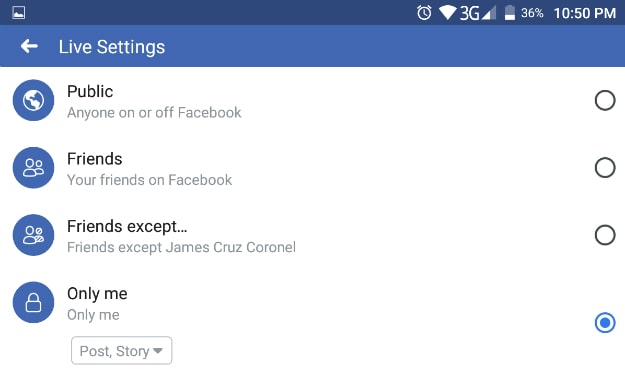 4. Before going live, make sure you give your event an attention-grabbing headline and description to pique the interests of your audience.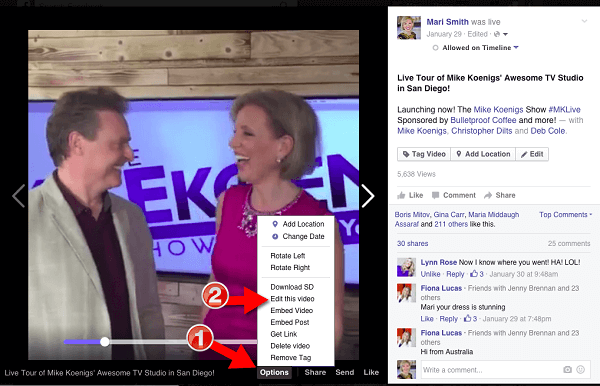 5. To go live click the "Start Live Video" and a countdown will start until you are live. As soon as your streaming begins, your video will go live on your news feed, similar to posting. The goal is to get as many watchers as possible, so try to do a longer video so people have time to see you went live on their feed. Your video can be as long as 90 minutes.
#2 YouTube Live
YouTube Live is another popular live streaming service that is widely used by many people such as event promoters and vloggers. It is free and allows you to connect with old and new subscribers.
Consider using this platform in addition to other popular social media platforms to maximize your audience reach. YouTube is also the most widely used platform for videos in the world, so keep that in mind.
Age group of Youtube users:
96% 18-24
95% 25-34
90% 35-44
85% 45-54
79% 55-64
66% 65-75
This means you potentially have access to a huge audience if you have plenty of followers and interesting content.
Instagram Live is the choice for viewers who are in the 18-25 age group, which is currently the largest consumer base. If your target audience is the Millennial group, then this is the perfect live stream platform.
When presenting your event on live stream, you may want to ensure your content is colorful, fun, and appealing. The Instagram platform is all about aesthetics and appeal as opposed to Facebook.
Here is how you go live using your Instagram account
Tap the camera icon in the top left of the screen or swipe right from anywhere in Feed.
Tap Live at the bottom of the screen, then tap Go Live.
The number of viewers appears at the top of the screen and comments appear at the bottom. Tap Comment to add a comment, and tap a comment and tap Pin Comment to pin it to the top so that viewers can see it more easily.
To turn comments off, tap then select Turn Off Commenting. Keep in mind that any keyword filters you've turned on will also apply to comments on your live video.
If you're on an iOS device, you can tap in the bottom right to add photos and videos from your camera roll to your live video. To stop displaying your photo or video, swipe right and tap . Keep in mind that only you can see the photos and videos in your camera roll while you're sharing a live video.
When you're done, tap End in the top right then tap to confirm. From there, you can tap Save in the top right to save it to your camera roll, or share it to your story.
The Livestream app is incredibly versatile and can allow you to live stream through Apple TV and even a Roku app, in addition to other standard devices such as iOS devices and Android.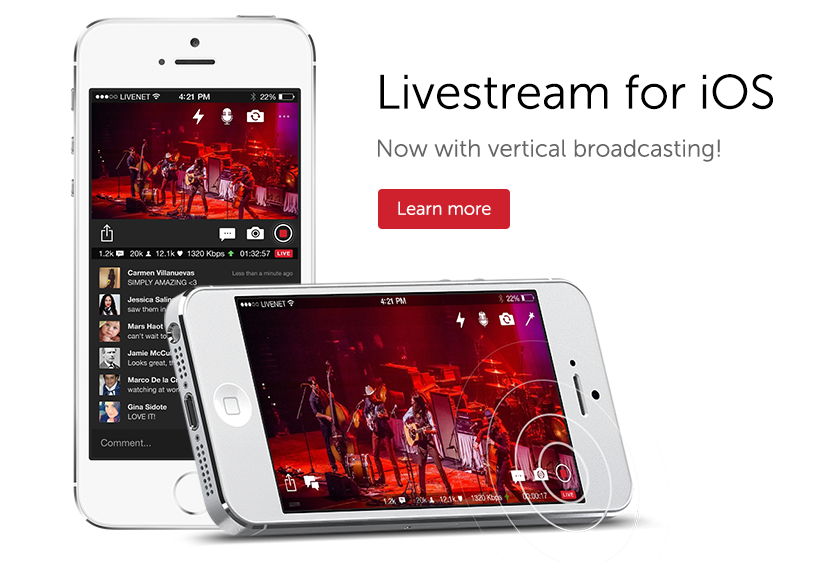 You should use this option for greater user convenience for you and your audience tuning in. With Livestream, viewers can see your event from the comfort of their living room on their television, which creates a higher chance of them tuning for a longer time period.
If you have an event geared towards families or large groups, this may be the perfect choice for you.
Periscope is the app designed for Twitter and works in much the same way that other live stream services work on social media. This option is great for more professional events because Twitter is used by more business professionals and corporate entities than any of the other platforms.
For example, you may want to use this app for a business conference or for live streaming of a public meeting or conference.
Use Periscope to:
• Broadcast live video and interact with people through hearts and comments.
• Discover popular live video streams from around the world or search for broadcasts by location or topic.
• Give and receive Super Hearts to show support.
• Missed out on a live video? Don't worry — watch the best parts with replay highlights.
• Instantly share your live videos to Twitter and other social networks.
• Broadcast privately to specific followers or friends.
The next time your company or brand hosts an event, plan to use one of these great live streaming services to reach your target audience. It is an easy and effective way to generate greater interest and offer viewers greater convenience while learning more about your brand.