Purplepass Pro Now Available in the App Store!

Event organizers, promoters, and venues – Turn your iOS devices into your new mobile box office power house.
This is the same software that powers all of our professional scanners and mobile POS terminals. Now you will be able to use the pro software on your own iOS devices! This version has full support for iOS 11
Scan tickets, look up orders, check in guests, sell at the door via cash, credit, or even COMP orders on the fly. Full support for general admission and assigned seating.
Download the new Purplepass Pro app from the iTunes App store here!
Turning your iPhone into a professional ticket scanner
Scan paper and digital tickets using your built-in camera or attached Linea Pro barcode scanners
Look up orders and check in guests
Provide full customer support
Full offline support so you can keep admitting guests at full speed even if you have slow internet or lose connective all together
"Keep me logged" in so you do not have to keep entering your login info
Enable "Checkout Mode" so you can scan guests out, making their tickets valid for admission again
Enable "Filter Mode" so you can restrict scanners to allow only certain types of tickets (e.g. Only allow VIP tickets at VIP entrance)
Enable "Test Mode" so you can test the status of tickets without marking them as used
Enable "Lock Mode" to enter app into a locked down mode so staff cannot play around or mess with settings
Scan tickets to instantly look up the entire order
Check in entire party with a click of a single button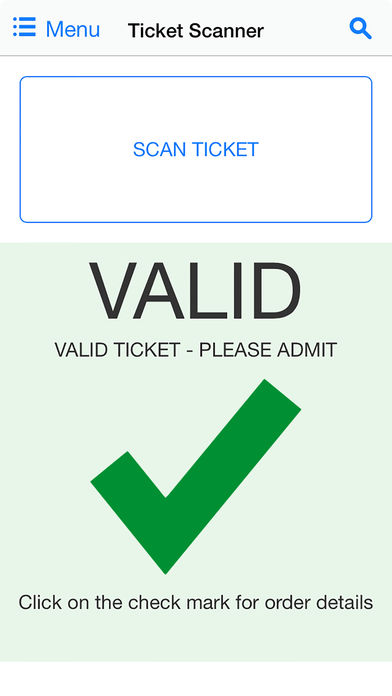 Turning your iPad into a complete box office terminal:
Sell at the door via cash, credit, or on the fly COMPs
Support for Infinite Peripheral Tab devices for swiping credit cards
Standard selling mode for extremely user-friendly operation
Advanced selling mode for high-speed rapid transactions
Inventory management to track remaining items to sell with ability to control whether or not you can oversell items
Support for wireless Epson receipt printers allows you to print receipts and barcoded tickets
Full support for assigned seating
Digitally collect signatures onscreen for credit card sales
Recent transaction log for easy order management
Transform your iPad into a ticket scanning kiosk by entering continuous scanning mode (Infinite Peripheral Tab device required)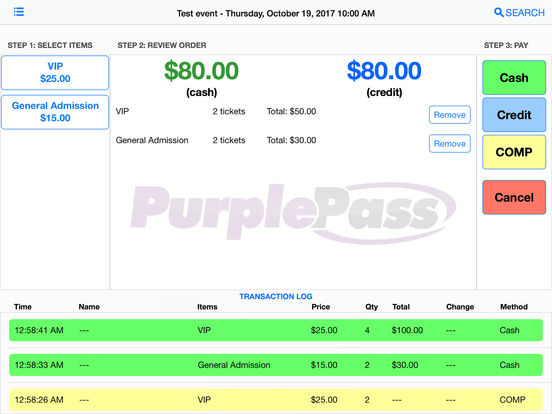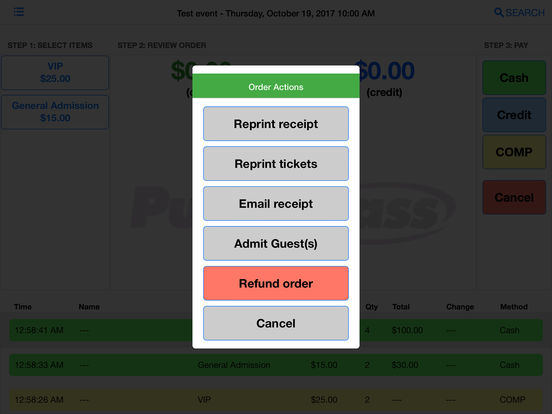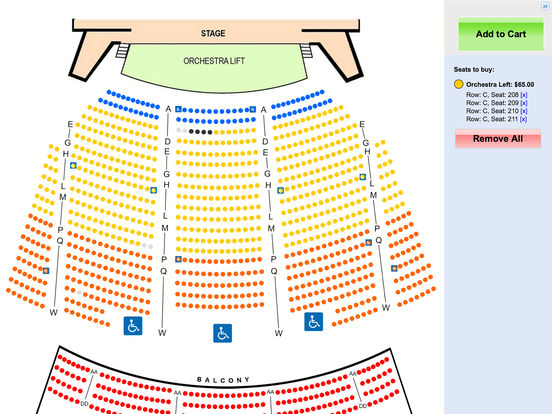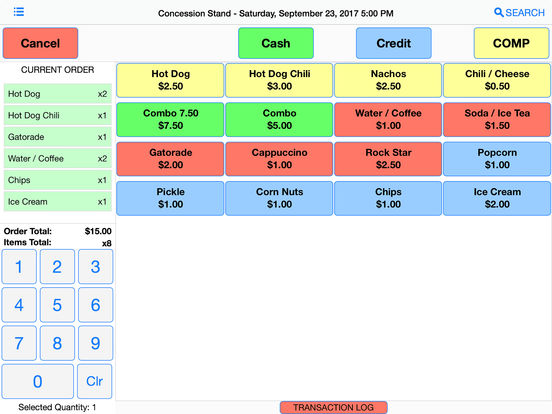 Other benefits of the Purplepass Pro app:
Cloud based platform keeps your mobile box office, desktop box office, and website sales all in sync
Use as many devices as you want
Full support for iOS 11
System works in real time so you can continue to sell online during your event
Purplepass provides comprehensive ticket presale and patron management services. We have solutions for events of all sizes ranging from 50 to 50,000 guests. With advanced social media integration, help in marketing your events, deep analytical stats, centralized guest list management, and an extremely user-friendly and intuitive interface, Purplepass is the complete ticketing solution for any event organizer, promoter, or venue.