New Upgrade: Partner/Affiliate Stats Filtering
Filter stats for partners to show only the partner's tracking link
When a partner uses a tracking link to generate sales, you can choose to filter your stats to show only the sales generated from the partner's tracking link to the partner.
You also should give the partner access to see the stats that the partner is generating via his/her tracking link. Do this by going to Settings > Partner Access and checking the "Limit access to stats based on tracking IDs" box.

Advanced formatting for ticket type description as well as auto-expand for very long descriptions
The description for each ticket type can be formatted with line breaks, basic HTML coding and support for extra-long descriptions. If your description is longer than three lines, Purplepass will automatically show the first three lines and then a "view more" button. This allows the event page to remain clean and easy to read while supporting long ticket type descriptions.

Show only sold tickets checkbox on My Events page
In My Events, you can choose to show only tickets that were sold (not comped) by checking the "Only show paid orders" box. When the checkbox is checked, the number for how many orders there are will only be for paid orders and not total orders including comps.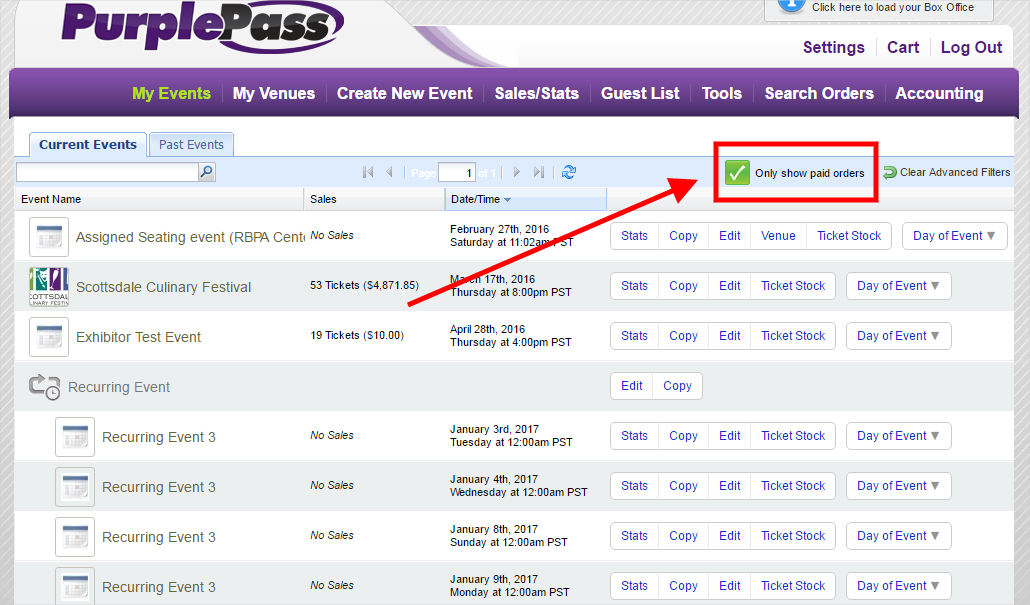 Real-time search for events in Search Orders
In "Search Orders," when you begin typing the name of an event in the drop down/search box, you search for the event in real time. This means if you start typing the name of the event, any event with those letters to begin with will appear and be narrowed down until only the event you are searching for is available.