The Best Hidden Bars in San Diego

This Hidden Bar has a truly unique entrance, but once inside you are transported to a Jamaican vacation. With a variety of extremely unique drink flavors and options to choose you won't want to leave. Find their swinging chairs on their patio, or their cushioned couches, grab a tropical drink and escape the hustle and bustle of Pacific Beach for this tropical lounge.
The Noble Experiment has easily become one of the most popular speakeasies currently in San Diego. With that being said, make a reservation if you can or come early. This bar is another escape from reality but this time to a classy upscale parallel universe. It's an intimate place but has a fun and exciting atmosphere for all occasions. They have a list of classic drinks, to experimental menus and dealers choices for you to try. You'll never get bored at this bar!

Looking for something different, a new place to explore, try the Prohibition Lounge. Live music, special performances, and unexpected entertainment, plus strong drinks! This is your place. Most of the cocktails are original and let me say deliciously strong. The entrance is a little tricky, but what's the fun if I tell you. It's worth the search and once you find it you'll be transported back in time with nostalgic songs, classic themes and only good vibes. One piece of advice; get here early as it fills up fast, as does every good speakeasy.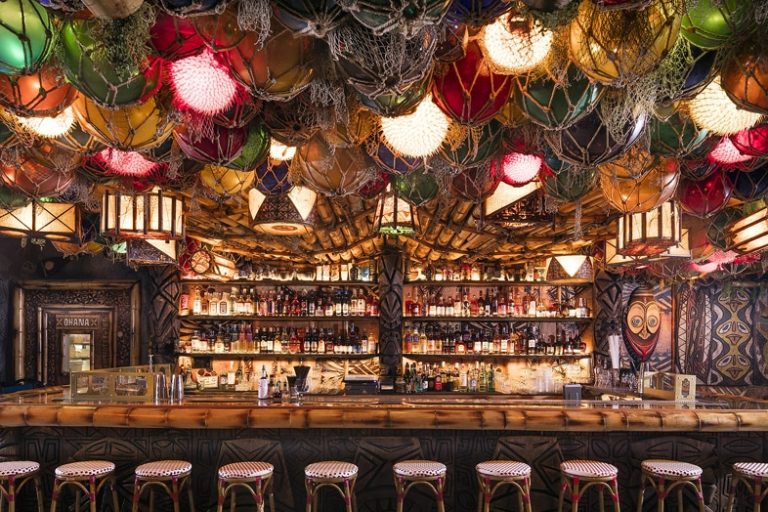 False Idol is another tiki bar located in Little Italy, downtown San Diego. This is a bar that commits to their theme, with flames, Polynesian decor, skulls on the wall, water features and endless tiki drinks. If you are looking to 'feel' your drinks go for The Coronado or The Serpent, you can't go wrong. They have an easy reservation system on their website that is highly recommended unless you feel like waiting.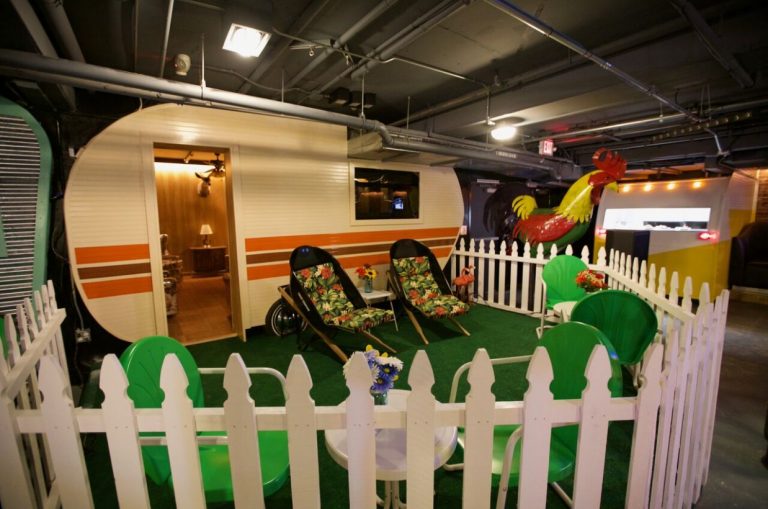 This bar has a cool concept, maybe you can tell by the name? Shopping cart seats, milk crates, and garbage pail light fixtures, trailers in the basement, with "patio" areas, 70s furniture with plastic on it, "china" cabinets full of red solo cups and paper plates, wheelbarrow chairs, shall I continue? You get the idea. Happy hour consists of cheap jello shots and wells drinks. Make any music requests, grab a seat in the photo booth, and have a fun time! Guys can go to the bathroom in the urinals made out of beer kegs, every mans dream.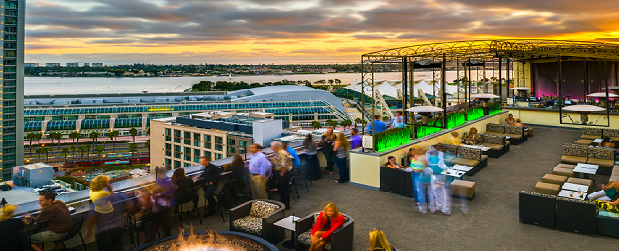 This being one of the tallest rooftops in San Diego, it's worth finding! Did I mention you get a complete view of Petco Park! Almost a complete 360-degree view of downtown San Diego skyline, making this is the perfect place to start the night right and watch the sunset. The atmosphere is more upscale, with fire pits, a full bar, large tvs, and music. This bar is hidden inside the Marriott Hotel where you can feel like you are on top of the world with a drink in your hand.