Results for ""
Show content for
Everybody
Organizer
Buyer
Answers
Getting paid with Purplepass
Getting paid with Purplepass
Payouts happen on the following Thursday after your event. There are 4 different ways you can get paid for your event through Purplepass. Keep in mind, if you would like to switch to a different payment method, please contact your service rep or email support@purplepass.com.
OPTION 1: ECHECK
By default, you are set to eCheck. This payment comes from a service called Deluxe eCheck via email. It will ask you to follow a link to receive your paycheck. This method is the fastest and easiest way to get paid out. You can use your bank's mobile app to deposit these checks if they offer the option.
Follow the instructions via email to retrieve your check. Feel free to create an account, but this is not necessary to get the check.
Print it out and bring the check to the bank
The bank will then process the check
OPTION 2: TRADITIONAL PAPER CHECK
If you prefer to receive a traditional paper check, this will come to you via USPS First Class mail.
OPTION 3: DIRECT DEPOSIT
Direct deposit will transfer the money directly into your bank account once payments have been sent out. You may sign up for this at any time with Purplepass. Once you are signed up and your bank account has been linked, you will receive money from that account.
Payouts will appear in your bank account ready for use the very next day after being paid. Please contact your service rep or let us know at support@purplepass.com to send you an ACH form to get started with this option.
OPTION 4: INSTANT WITH MERCHANT ACCOUNT
If you have your own merchant account with an Authorize.net gateway account or PayPal, you can set up your account to receive funds directly to those accounts as sales are being made.
To activate this option, go to Settings > Merchant account. Here you will find the options to link up your merchant accounts. Please have your merchant account or PayPal information ready to proceed with this option.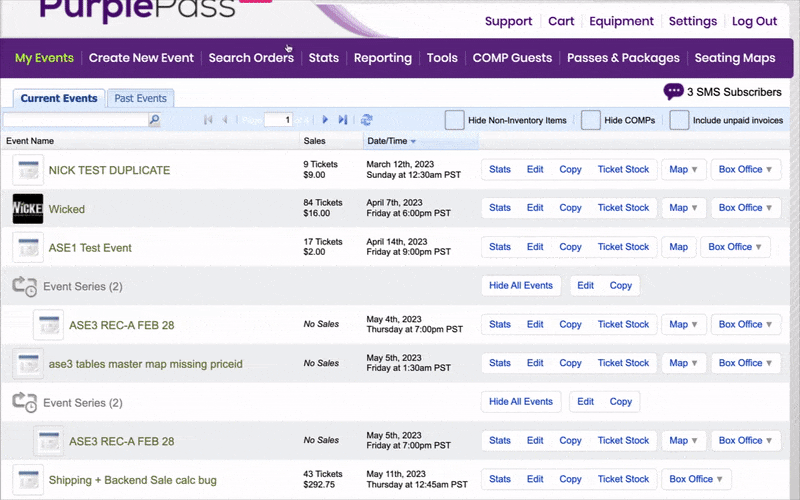 If you want to change your payout method or have trouble changing it, contact support@purplepass.com or call 800-316-8559.