matching article(s)
Show content for
Everybody
Organizer
Buyer
Answers
Viewing your log information on WordPress
Viewing your log information on WordPress
To view your log information, select the "Purplepass" tab on the left sidebar towards the bottom of the screen. A pop-up menu will appear. 
Select the "Log Info" option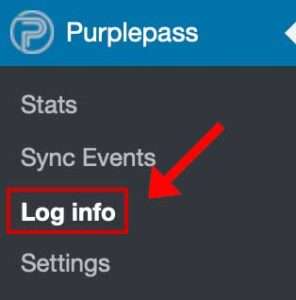 2. This log details all of the actions taking place throughout the day
For more information about using Purplepass' WordPress plugin, click here to access our guide.