matching article(s)
Show content for
Everybody
Organizer
Buyer
Answers
Order ticket stock for general admission on Purplepass
Order ticket stock for general admission on Purplepass
You can order ticket stock for general admission, and it's a quick process that can be done from within your Purplepass promoter dashboard. NOTE: tickets can ONLY be created once an event has been created and entered into the system. 
1. Log in or create a Purplepass account
2. Once your event is created, you should be able to view it on the "My Events" page
3. Click "Ticket Stock" and select which ticket type you want to create. NOTE: ticket types include the traditional thermal and full color custom ticket stock.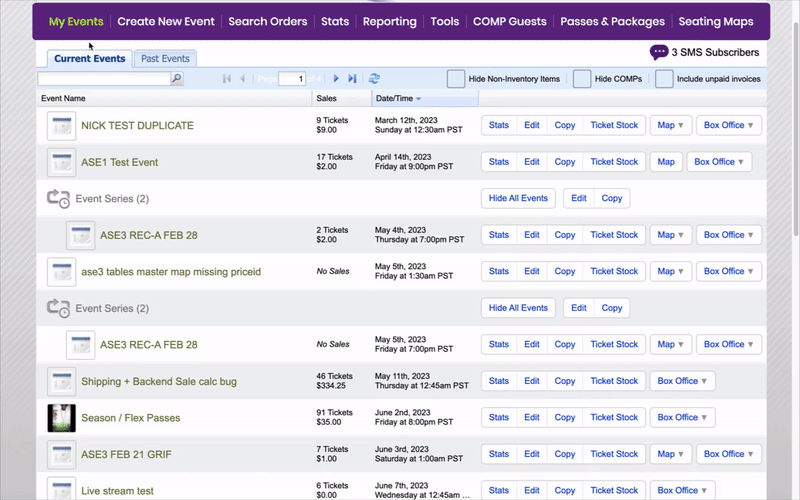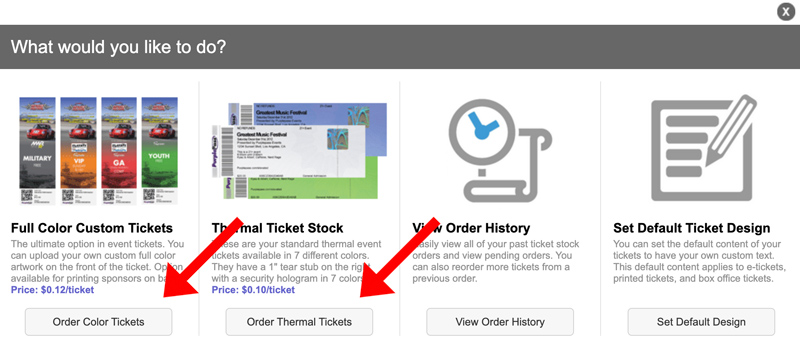 Thermal Tickets
Thermal tickets are available in 7 different colors, featuring event information text, guilloche pattern background, tear stub and a unique serial number.
It's as simple as you can get.
Full Color Tickets
Full color ticket stock makes printed tickets more personalized and customizable by allowing you to upload a background design of your choosing with the user-friendly ordering screen.
With these ticket types you can take advantage of using event photos, logos, and other branding artwork.
After selecting your ticket type, click the button below the option you choose that says "Order …". NOTE: when ordering the full color tickets, be sure to follow the directions on the page to ensure the desired artwork isn't cut off.

Select the drop-down menu under

"ticket type"

Select

"general admission"

If it's full color ticket, upload the image or artwork you wish to feature on the ticket. Align the image within the blue lines featured on the sample ticket.
You also have the free feature of choosing to have the ticket perforated, making it easier to tear off the stub during admittance. If it's a thermal ticket, you can only select the ticket type, color, information and perforation is always included.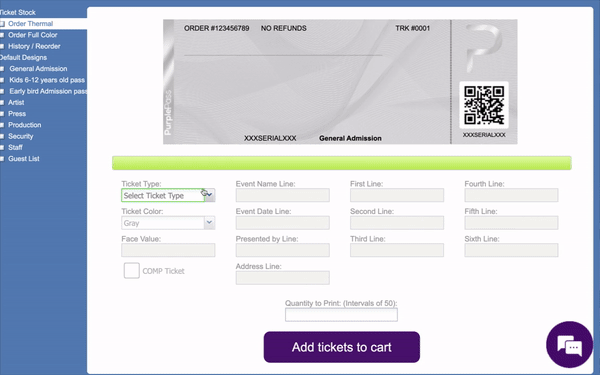 Selecting The Number Of Tickets You Need
NOTE: the minimum amount of tickets you may order is 50 for thermal and 10 for full color. 
Any amount exceeding 50 tickets goes up by 10 and can be as many as you wish. That is the per-artwork and per ticket type requirement. Additional tickets with different artwork are counted separately and follow the same guidelines.
When inserting the face value number, the system automatically defaults to the listed online price, but can easily be changed manually by entering the desired value in the appropriate fields.
Comp Tickets
1. Select the box labeled "comp"
2. Once all of the desired changes have been made, select the box to the right in the yellow field prompting you to approve the artwork (if full color)

3. Select the "Add ticket to cart" button at the bottom of the page when you are finished. The whole process to order ticket stock is simple and convenient and only takes a few minutes.